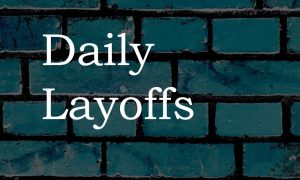 SWFI Daily Layoffs Briefing, April 3, 2020
Posted on 04/03/2020
---
Traveloka
Indonesia online travel company Traveloka is looking at layoffs and the termination of a number of corporate executives. Some investors in Traveloka include Expedia Inc., East Ventures, Hillhouse Capital Group, JD.com, Sequoia Capital, and Singapore's GIC Private Limited.
ClassPass
ClassPass is a fitness platform. The company furloughed or laid off over half of its 700 employees on April 2, 2020. The breakout is that 22% were laid off and 31% were furloughed.
Katerra
SoftBank Group Corporation-backed Katerra is making some layoffs and furloughs. Katerra's layoffs represent 3% of its global workforce.
Scandinavian Airlines
On March 15, 2020, Scandinavian Airlines (SAS) announced that it would temporarily layoff 10,000 employees, or 90% of its staff.
Norwegian Airlines
On March 16, 2020, Norwegian Airlines announced that it would temporarily layoff 7,300 employees, or 90% of its staff.
Bustle Digital Group
Bustle Digital Group owns a collection of digital media businesses. Bustle Digital Group terminated around 24 people. Bustle Digital Group laid off the entire staff of The Outline, a culture information news site that Bustle bought in 2019.
ZipRecruiter
On March 27, 2020, ZipRecruiter laid off 443 employees.
Mindbody
Based in San Luis Obispo, Mindbody is a health and wellness tech company. The company is planning layoffs – some 700 of the 2,000 plus employees.
Under Armour
The sports apparel giant Under Armour will start layoffs on April 12, 2020 to cut costs.
Hudson Headwaters Health Network
Hudson Headwaters Health Network will furlough roughly 85 employees, beginning the week of April 6, 2020.
Panavision
Panavision is a major provider of production and post-production services to the U.S. media industry. Panavision is planning to layoff staff.