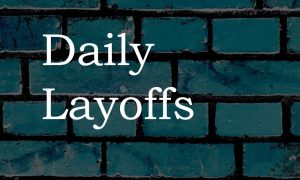 SWFI Daily Layoffs Briefing, April 13, 2020
Posted on 04/13/2020
---
Here are more layoffs tied to the economic impact of the Wuhan coronavirus (COVID-19) pandemic.
Walt Disney World
Orlando-based Walt Disney World revealed they will furlough 43,000 of their employees starting April 19, 2020.
Burning Man 2020 Festival
The annual Burning Man festival that takes place in Black Rock City, a prop-up gathering in the Black Rock Desert in Nevada, is cancelling its 2020 event. The event was scheduled for August 30, 2020 to September 7, 2020.
Smithfield Foods
Smithfield Foods, Inc. is the world's largest pork processor. The food giant is closing a U.S. plant in Sioux Falls, South Dakota indefinitely after a slew of COVID-19 cases among employees cropped up. The Sioux Falls facility is one America's largest pork processing facilities. This facility representa 4% to 5% of U.S. pork production. Smithfield will pay employees for the next two weeks. "The closure of this facility, combined with a growing list of other protein plants that have shuttered across our industry, is pushing our country perilously close to the edge in terms of our meat supply. It is impossible to keep our grocery stores stocked if our plants are not running," Smithfield CEO Ken Sullivan said in a news release on Easter. "These facility closures will also have severe, perhaps disastrous, repercussions for many in the supply chain, first and foremost our nation's livestock farmers. These farmers have nowhere to send their animals."
"Unfortunately, COVID-19 cases are now ubiquitous across our country. The virus is afflicting communities everywhere. The agriculture and food sectors have not been immune."
In 2013, Hong Kong meat processor Shuanghui Group (now known as WH Group) acquired Smithfield Foods for US$ 4.72 billion.
Monzo
U.K. challenger bank Monzo is terminating its 165 customer support team in Las Vegas, which provides night customer support to U.K. customers.
Kia Motors
Kia Motors plans to suspend operations in three factories in South Korea. The pandemic is impacting demand on exports to the United States and Europe. The operations would be suspended from April 23, 2020 to April 29, 2020.
Keywords: The Walt Disney Company.