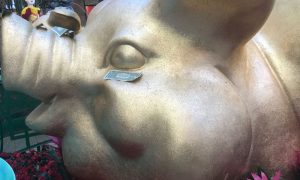 More 1MDB Funds Being Returned to Malaysia
Posted on 04/15/2020
---
When US$ 4.5 billion went missing from Malaysia's sovereign development company 1MDB and proceeds were used to pay for a 91-meter superyacht, a Picasso for Leonardo DiCaprio, and for Brittany Spears to jump out of a cake, the financial world took notice. Now Malaysia is reporting that it has recovered US$ 322 million. There is also room for optimism since US$ 1 billion has been recovered by the U.S. Department of Justice (DOJ). U.S. Attorney Nicola Hanna said that "The message in this case is simple: the United States is not a safe haven for pilfered funds. Our strict anti-money laundering controls are effective, and we will seize assets used by criminals to conceal ill-gotten gains." Singapore's current Prime Minister Muhyiddin Yassin expects to continue chasing the money.
A former Prime Minister named Mahathir Mohamad began the efforts to return the money to Malaysia. Singapore's Prime Minister who was serving at the time of the 1MDB scandal, Datuk Seri Najib Razak, will have his trial resumed on April 29, 2020. The public servant had US$ 731 million in his personal bank account but claims that the fault for the fund's losses lie exclusively at the feet of Jho Low. Jho Low is a 38 year-old gregarious international businessman who enjoys keeping company with U.S. celebrities. Mr. Low has been in hiding, but briefly surfaced in early 2020 to tell The Straits Times that he was working with U.S. authorities. He has already offered up to US$ 900 million to the authorities. Police say he was spotted in Wuhan, China as recently as March 2020. Mr. Low also has to face charges in Malaysia.
The 1MDB affair had a negative impact on Goldman Sachs, causing it to fall short of earnings estimates last year. Goldman Sachs began setting money aside for potential legal settlement costs in Q4 2019. Goldman Sachs helped 1MDB raise US$ 6.5 billion for the sovereign enterprise, saying it was misled by 1MDB and didn't know where the money was going. Goldman Sachs executive Tim Leissner pleaded guilty and surrendered US$ 43.7 million. Leissner has been barred from returning to his post by the SEC. His deputy Roger Ng now faces charges. Goldman Sachs pleaded not guilty in a Malaysian court on February 24, 2020. Abu Dhabi's Mubadala Investment Company suspended business with Goldman Sachs in 2019 after its International Petroleum Investment Company sued the investment bank for allegedly corrupting and misleading its members. There are a number of lawsuits filed worldwide due to 1MDB, including those in New York, Kuala Lumpur, Abu Dhabi, and Switzerland.
1MDB also took down Swiss bank BSI, which stretched throughout Singapore, Hong Kong, the Bahamas, Switzerland, Monaco, and Luxembourg. BSI was eventually integrated into EFG Group. EFG group is "a global private banking group offering private banking and asset management services and is headquartered in Zurich."
Keywords: 1Malaysia Development Berhad.