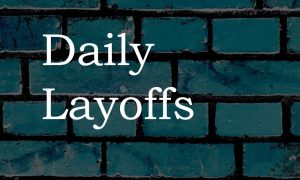 SWFI Daily Layoffs Briefing, April 21, 2020
Posted on 04/21/2020
---
LendingClub Corporation
Online lender LendingClub Corporation plans to terminate 460 employees, including firm president Steven Allocca. At December 31, 2019, Lending Club had 1,538 employees.
Uber
San Francisco-based Uber Technologies sees its gross booking down 80%, year-over-year.
Hertz Global Holdings
U.S. car rental company Hertz Global Holdings Inc revealed it plans to lay off 10,000 workers. The terminations were effective April 14, 2020 for non-union employees and effective April 21, 2020 for union employees.
Lennox Heating and Cooling
Lennox Heating and Cooling will lay off nearly 200 employees at its Marshalltown factory, effective April 27, 2020.
Casper Sleep
Casper Sleep Inc. announced it would lay off more than 20% of its corporate workforce and shut down European operations. The company adds that its chief financial officer, who also operates as chief operating officer, is leaving the company. Casper Sleep's European operations are expected to wind down largely by the end of 2020.
Hibbing Taconite
Hibbing Taconite is a joint venture between ArcelorMittal, Cleveland-Cliffs, and U.S. Steel. Hibbing Taconite will be idling its plant in the beginning of May 2020. Hibbing Taconite will terminate 650 of its 750 workers.