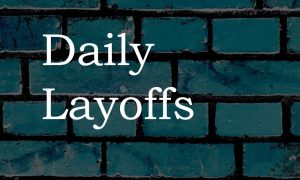 SWFI Daily Layoffs Briefing, April 22, 2020
Posted on 04/22/2020
---
Vice Media
Vice Media Group, which is backed by private equity firm TPG Capital, plans to lay off over 300 people in digital operations. These terminations include workers in both Vice News and female-focused publisher Refinery29.
Magic Leap
Augmented reality company Magic Leap, which has Saudi Arabia's Public Investment Fund as an investor, is terminating a number of employees. Plantation, Florida-based Magic Leap is pivoting to focus on selling to corporate customers. Bloomberg reports that approximately 1,000 people were laid off.
Inova Health System
Falls Church, Virginia-based Inova Health System, a non-profit health organization, plans to layoff 400 employees. Hospitals are dealing with lower revenue and higher costs linked to the Wuhan coronavirus pandemic. Most of the people being laid off are in non-clinical management positions.