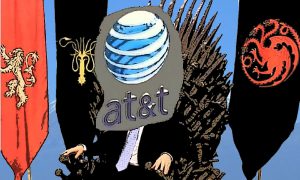 AT&T Investors Demand a Safe Telecom Giant, While Management Wants to be Like Netflix
Posted on 04/25/2020
---
Several years ago, a stale telecom forged a plan. It attempted to buy its way to relevance, and a variety of sovereign wealth funds and pension funds are now hoping the gamble pays off. AT&T continues to operate as a phone business, but has expanded through multiple subsidiaries, including a well-known satellite television provider, DirecTV, and entertainment empire WarnerMedia. WarnerMedia operates the Warner Bros. movie studio which controls the property rights of highly profitable superhero franchises such as Batman. WarnerMedia also owns brand names CNN, Sports Illustrated, and HBO. Lately, WarnerMedia has been working on its streaming service to provide its content directly to consumers, in competition with Amazon, Netflix, The Walt Disney Company, NBC Universal's Comcast, and others. AT&T is about to get a fresh start as its CEO and Chairman Randall Stephenson plans to leave as CEO in June 2020, but keep a tight rein as company chairman. Long-time deputy John Stankey will become CEO of AT&T. Groomed for the CEO job, Stankey led the charge of AT&T's controversial acquisitions of DirectTV and Time Warner. DirecTV has lost considerable company value since AT&T purchased it, while WarnerMedia struggles to compete against Netflix and Disney in the media content wars. Both Stephenson and Stankey come from the legacy brand of SBC. Stankey reported to Stephenson when he was named Chief Operating Officer of SBC. In a Jedi Master/Apprentice framework, Stephenson was the long-time loyal lieutenant of former AT&T CEO Edward (Ed) Whitacre.
ATT vs. Netflix Share Price Close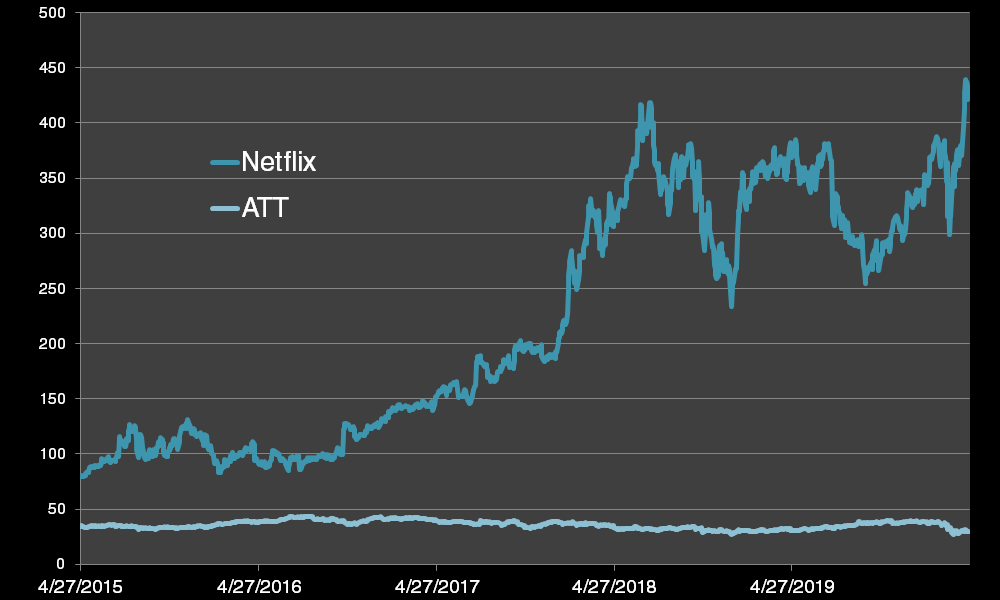 AT&T has a stock price substantially lower than what it had in the late 1990's, when it was trading in the US$ 40-US$ 50 range. In April 2020, AT&T is 33% lower than its price in April of 2000. A theoretically high dividend yield could counteract the sorry performance of the company over the decades, but now some analysts are calling that into question, and it is not clear whether the current yield will last. For now, AT&T has stood by its dividend and its attracted income investors. Experts who have soured on the conglomerate point to AT&T's large debt load due to its acquisitions of WarnerMedia and DirecTV. After promising a debt reduction plan, AT&T has now taken on US$ 5.5 billion in new debt to weather the crisis in the economy. AT&T's US$ 156.5 billion in debt is down from its highs in 2018, but AT&T's debt reduction hopes are now obviously going in reverse. In April 2020, AT&T got approval for a US$ 5.5 billion loan.
Holding Back Content Approach and Reported Earnings Disappoint
In a December 7, 2016 statement, before the Time Warner acquisition was finalized, AT&T CEO Stephenson went in front of the U.S. Senate antitrust subcommittee. Part of Stephenson's statement reads, "Nor is there any reason to believe we could use Time Warner programming or AT&T networks to hurt related markets. Simply put, it would be irrational business behavior to do so. Time Warner's programming is more valuable when distributed to as many eyes as possible. Moreover, in order to have great programming, it is imperative that we attract great creative talent to develop it. The best way to attract that talent is through widespread distribution of Time Warner content."
In an "irrational" move, AT&T changed course after it bought Time Warner. In May 2019, Stephenson said the company will pull popular T.V. shows and movies from streaming rivals such as Netflix and bring that content back into the fold. In the fourth quarter of 2019, AT&T stated it lost US$ 1.2 billion in revenue and it would have been US$ 48 billion if not for "HBO Max investments in the form of foregone WarnerMedia content licensing revenues."
AT&T reported earnings on April 22, 2020. First quarter results for 2020 came in disappointing, with consolidated revenues of US$ 42.8 billion, a 4.5% drop year over year. In December 2019, revenue was only down 2.44% year over year, at US$ 46.82 billion. Operating income for Q1 2020 was US$ 7.5 billion, up from US$ 7.2 billion a year ago. Net income was US$ 4.6 billion, up from US$ 4.1 billion. Earnings per share were below estimates, at US$ 0.84 per share, down from US$ 0.86 and a penny short of estimates. Financial guidance has now been withdrawn due to the current market uncertainty.
In January 2020, Randall Stephenson wrote that significant investments have been made to encourage growth: "It was clear to us early on that the mobile internet revolution and a world of streaming video would require much more capacity than people were anticipating. So, we began investing for future demand." HBO Max has been a target for further investment by AT&T. HBO Max had been blamed for the drop in consolidated revenues, along with foreign exchange pressures. HBO Max is set to go live May 27, 2020. One struggle in the "streaming wars" era is content, with providers having trouble coming up with enough fresh material for subscribers. This is amplified by the shutdown of new Hollywood productions. HBO Max plans to air "Friends" reruns, along with other shows from before the year 2000. As consumers' morals shift with a new generation, Friends may not be the best series for AT&T to invest in since it is now being criticized in the media for fat-shaming, lack of diversity, and socially unacceptable behavior on the part of its characters.
Public Institutional Investors
Attracted by its dividend and market share in U.S. telecommunications, AT&T is 56.45% owned by institutional investors. Norges Bank, Norway Government Pension Fund Global's parent, owned US$ 2.3 billion in AT&T as of December 31, 2019. TIAA's Nuveen Asset Management, in the news for its actions against Preston Hollow, had US$ 1.65 billion in shares. California Public Employees Retirement System (CalPERS) owned US$ 874 million. California State Teachers Retirement System (CalSTRS) owned US$ 464 million. New York State Common Retirement Fund had US$ 533 million. New York State Teachers Retirement System held US$ 341 million. Many other private and public funds took large stakes in AT&T. For example, South Korea's National Pension Service had US$ 274 million in stock. AT&T has lost a quarter of its value since 2020 began.
Activist Investor
In what CNN called a "Shareholder Battle," one frustrated investor took AT&T to task over the direction it was headed. Paul Singer's Elliott Management Corporation bought US$ 3.2 billion in AT&T and demanded that it focus on core assets and stop making expensive acquisitions. Elliott Management was essentially welcomed by AT&T management, and the telecom has been divesting from non-core assets. Elliott Management had been critical of the WarnerMedia and DirecTV purchases, which increased the company's debt load, but AT&T has remained committed to making those particular acquisitions successful. With WarnerMedia and DirecTV, AT&T entered the battle for consumer content. Not only must AT&T counter other phone companies such as Verizon and T Mobile, it must also take on virtually every media company and conglomerate. Clearly, these are two very different specialties.
AT&T also needs to battle abroad, where other entertainment companies are entrenched. One such foe is Europe's Bertelsmann, a German media giant that once published pro-Nazi and anti-Semitic propaganda. The Wall Street Journal's Matthew Karnitschnig took note of its abuse of Jewish slave labor and collaboration with Hitler's war machine to produce propaganda for German soldiers. When confronted with the evidence, former CEO Gunter Thielen expressed "regret." The company biography had stated that the founding Mohn family opposed the Nazis and suffered because of it. In fact, Nazis ran day to day operations. The Mohn family continues its major role in Bertelsmann to this day. Bertelsmann's RTL group runs television stations in Eastern and Western Europe, where WarnerMedia is making a push.
Though AT&T is one of Fortune's list of "Best Companies to Work For," and has a shining background compared to its competitor Bertelsmann, its public image was tarnished somewhat in Q4 2019 when the U.S. Federal Trade Commission (FTC) settled a court case against the telecom for US$ 60 million. The FTC claimed that AT&T had sold subscribers unlimited plans, only to slow down their speeds without adequately notifying them. The money will be used to reimburse customers. AT&T denied wrongdoing. In announcing the settlement, the FTC's Consumer Protection head Andrew Smith said, "AT&T promised unlimited data—without qualification—and failed to deliver on that promise." Then on January 31, 2020, investigative reporter Miles Moffeit found that AT&T had been violating ethics rules among city council members in Texas, offering VIP access to a sporting event and parties, including one hosted by the Dallas Cowboys and Cowboys Cheerleaders. Another allegation is that AT&T is making it possible for government officials at the NSA to spy on its customers. These offenses haven't drastically impacted business. The future of AT&T will depend on the success of its costly realignment as a media and entertainment company, while investing in 5G infrastructure.
Keywords: National Pension Service of Korea, AT&T Inc.