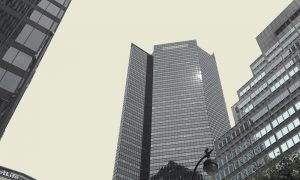 Carlyle Group Show First Cracks, Reports First Quarter Net Loss of $612 Million
Posted on 04/30/2020
---
The Carlyle Group got smacked hard by the Wuhan coronavirus pandemic. Carlyle Group reported a first-quarter net loss of US$ 612 million. The Washington, D.C., firm reported assets under management at US$ 217 billion for March 31, 2020, a 3% step down from the fourth quarter of 2019 and 2% decrease from the March period in 2019.
62% of traditional carry funds are corporate private equity, while real estate is at 14%, natural resources is at 15%, legacy energy is at 2%, and global credit is at 7%.
Carlyle Group has US$ 74 billion of dry powder, along with US$ 143 billion of assets already invested. Total balance sheet assets were US$ 12 billion as of March 31, 2020.
Carlyle Co-CEOs Kewsong Lee and Glenn Youngkin said, in the recent 8-K "The whole world is managing through this unprecedented time and the human toll is real. We thank all of the courageous healthcare and front line workers, and our thoughts are with all of those impacted by the pandemic.
Since the beginning, our priority has been the health and safety of our people. As a firm, we have adapted well to this new environment as we support our companies and prepare for a wide range of outcomes. The momentum we've established and our strong first quarter give Carlyle a position of strength as we navigate the current environment. We are taking a balanced and patient approach, and our global and diversified platform enables us to provide capital to companies as long-term investors as we drive value for all of our stakeholders."
Energy Assets
Carlyle has substantial exposure to U.S. energy assets such as Chesapeake Energy, which is an oil & gas exploration and production company operating in a diverse set of basins across the United States. Carlyle Partners VI invested in Chesapeake in June 2017. Chesapeake Energy is contemplating bankruptcy.
Carlyle also owns Stallion Oilfield Services Ltd., an energy service company that provides upstream, midstream, and industrial services to oil and gas exploration and production companies, drilling contractors, pipeline companies, refiners, and other industries across the United States, Gulf of Mexico, and certain international areas. On January 31, 2018, Stallion Oilfield Services acquired substantially all of the assets of Al's Water Service, a provider of potable water transportation and services to the oil, gas and mining industries.
In October 2019, Carlyle Europe Partners V, Carlyle International Energy Partners, Carlyle Partners VII acquired a 37% stake in Madrid-based Compañía Española de Petróleos, S.A.U (Cepsa) from Mubadala Investment Company. CEPSA is Europe's largest privately-owned integrated oil & gas company. Mubadala retained a 63% stake. Cepsa's upstream assets include significant reserves contained in both the Umm Lulu and SARB fields located offshore Abu Dhabi. Cepsa is also a significant oil producer in Algeria and operates in South America and Southeast Asia.
Carlyle Energy Fund III (2005 vintage) generated aa Net IRR of 5%, while Carlyle Energy Fund IIV (2007 vintage) generated aa Net IRR of 0%. Carlyle's Natural Gas Partners Fund X (2012 vintage) and XI (2014 vintage) both have negative net IRRs.
Apollo Aviation
In 2018, Carlyle Group acquired 100% of Apollo Aviation Group, a global commercial aviation investment and servicing firm with US$ 5.6 billion in assets under management at the time of purchase including 243 aircraft owned, managed or committed to purchase.
In the prior week, rival Blackstone Group reported a net loss of US$ 1.07 billion for the quarter.
Keywords: Carlyle Group Inc.