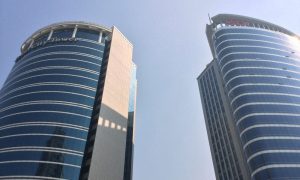 South Korean Export Model Gets Slammed by Coronavirus Demand Slump
Posted on 05/04/2020
---
The Wuhan coronavirus pandemic accelerated South Korea's export-driven economic vulnerabilities. South Korea is heavily reliant on exports, due to its aging demographic profile that is right behind Japan's timeline. China and Japan have more capacity to be consumer-focused economies compared to South Korea. In April 2020, Korean exports fell off a ledge at the fastest pace since the global financial crisis of 2008. South Korea's Ministry of Trade, Industry and Energy disclosed that exports dropped 24.3% compared to the same period a year earlier to US$ 36.9 billion. The drop in demand for South Korean goods and services was from the United States and European Union. The ministry reported that, "Semiconductors, general machinery, petrochemicals, automobiles, steels, petroleum products, ships, auto parts, displays, wireless communication devices, textiles, agricultural products and fisheries, cosmetics, secondary batteries, fine chemical materials, home appliances, and robots fell in exports."
Exports to the United States shriveled down to 13.5% to US$ 5.3 billion, while China fell down 17.9% to US$ 10.2 billion. South Korean exports to the European Union fell to 12.8% to US$ 4.3 billion. A weaker China and Europe does not bode well for South Korean industries.
In addition, imports fell 15.9% to US$ 37.9 billion. The move away from globalization and toward regionalization is becoming more apparent, as the United States seeks to realign its economic interests and reshape a worn-out Cold War mentality. The U.S. and Japan have already implemented stricter trade rules when it comes to ownership in technology and companies. Japan has even taken measures to limit technology exports to South Korea.
Automobile Industry
Korean automobile exports contracted 36.3% to US$ 2.4 billion primarily because of lockdowns in the U.S. and Europe as well as auto dealership closures overseas. Kia Motors Corporation's first quarter 2020 net profit cratered 59% from a year earlier, as U.S. vehicle sales slid 38.2% from a year earlier. Hyundai Motor America disclosed it sold 33,968 finished cars in April 2020 in the U.S., down 39% from the same period a year ago.
Mirae Asset
Hotels and airlines have been battered by the coronavirus. On another note, Mirae Asset Global Investments terminated a major deal to acquire 15 U.S. hotels from China's embattled Anbang Insurance Group. The price tag was US$ 5.8 billion in 2019. Mirae accused Anbang of breaching contract obligations. Mirae Asset invoked its rights for the return of its deposit relating to the failed transaction. Dajia Insurance Group, a newly formed entity taking over assets from Anbang, asked a U.S. court to prevent Mirae from terminating the contract. Anbang filed litigation against Mirae in the U.S. over the matter.