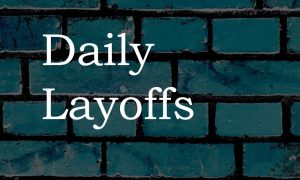 SWFI Daily Layoffs Briefing, May 4, 2020
Posted on 05/04/2020
---
Here are more layoffs tied to the economic impact of the Wuhan coronavirus (COVID-19) pandemic.
J. Crew
Fashion retailer J. Crew filed for Chapter 11 bankruptcy with US$ 400 million in Debtor-in-possession (DIP) financing from lenders. J. Crew's largest creditors are set to take control of the company and cancel its debts of US$ 1.65 billion. Anchorage Capital Group, GSO Capital Partners, and Davidson Kempner Capital Management are the major creditors holding on to J. Crew Debt. GSO Capital is part of the Blackstone Group.
Around 500 stores have been closed due to the viral outbreak.
Ryanair
Irish airline Ryanair disclosed it will chop off 3,000 jobs and ground 99% of its flights. Ryanair could also close some of its locations throughout Europe until 2022.
U.S. Steel
Pittsburgh-based U.S. Steel Corporation expects to lay off around 2,700 people.
Boeing
The Boeing Company announced it will cut about 16,000 workers, or about 10% of the company's workforce. Boeing was already dealing with issues stemming from the 737 Max grounding before the viral outbreak hit world travel.
GE Aviation
General Electric's aviation unit (GE Aviation) plans to chop its workforce by 25%, roughly 13,000 jobs. Bottom line is that there is less demand for new aircraft.
United Airlines
United Airlines started a process that could terminate almost a third of its 12,250 pilots as soon as October 1, 2020.
Allscripts Healthcare Solutions
Chicago-based Allscripts Healthcare Solutions, Inc., which is a listed company, reduced headcount in its global workforce by roughly 5% and implemented temporary salary reductions for its highest-paid employees.