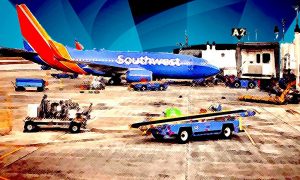 Southwest Airlines Goes for $2 Billion in Latest Debt Financing
Posted on 05/04/2020
---
As airline bonds grow shaky, on May 4, 2020, Southwest Airlines Co. completed the public offering of US$ 2,000,000,000 aggregate principal amount of debt securities.
Debt Financing
$750,000,000 4.750% NOTES DUE 2023
$1,250,000,000 5.250% NOTES DUE 2025
The underwriters are BofA Securities, Inc. (Bank of America), BNP Paribas Securities Corporation, Citigroup Global Markets Inc., J.P. Morgan Securities LLC, and Morgan Stanley & Co. LLC.
Southwest has been revamping operations. Like other U.S. airlines, passengers would be required to wear protective masks on flights in the event of the coronavirus outbreak that remains.
Warren Buffett of Berkshire Hathaway revealed at a shareholder's meeting that they offloaded their entire equity book in four major U.S. airlines. A slow recovery is a major risk for global airlines industry.