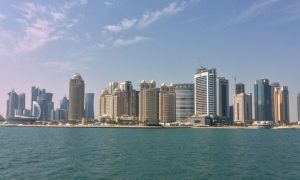 Qatar Petroleum and Falling Crude Oil Prices
Posted on 05/09/2020
---
The state-run Qatar News Agency reported that Qatar Petroleum's prices for April 2020 dropped by more than 51% for the Qatar Land and Marine crudes, compared to March 2020. Qatar Petroleum is a state-owned petroleum company in Qatar. The company operates all oil and gas activities in Qatar, including exploration, production, refining, transport, and storage.
In April, Qatar Petroleum announced a series of job cuts and capital spending reductions. However, Qatar Petroleum is not planning on downsizing the world's largest LNG project, the North Field expansion
Mexico
Qatar Petroleum expanded its footprint in Mexico. On or around May 6, 2020, Qatar Petroleum signed three offshore Mexico farm-in agreements to acquire 30% of France-based Total's participating interest in blocks 15, 33, and 34 in the Campeche basin in Mexico. The total area covered by the blocks is approximately 2,300 square kilometers. The oil offshore blocks are within 30 to 90 kilometers of the giant Cantarell and KMZ oilfields.
Keywords: Total SA.