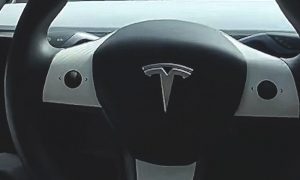 California's Powerful Labor Lobby Grows Tired of Tesla, as EV Files Lawsuit Against Alameda County
Posted on 05/10/2020
---
Tesla, Inc. filed a lawsuit in the U.S. District Court for the Northern District of California against Alameda County. Tesla believes Alameda County had violated the due process and equal protection clauses of the Fourteenth Amendment and sought an injunction that would allow the company to operate. Benefiting from California's EV subsidies, Tesla's key manufacturing plant is in Fremont, California, a city in Alameda County. The Wuhan coronavirus lockdown has greatly impacted U.S. manufacturing, leaving millions of Americans out of work. Alameda County Health Care Services Agency officials do not want Tesla to reopen its factory in Fremont. California state as a whole started loosening restrictions and allowing businesses to start reopening, but counties in the San Francisco Bay Area have not followed suit.
Tesla CEO Elon Musk in a series of tweets grew frustrated with the politics of California counties and is open to moving Tesla's main operations out of California to possibly Nevada and/or Texas. Musk tweeted, "he restrictions imposed by Alameda County are "contrary to the Governor, the President, our Constitutional freedoms & just plain common sense!"
On May 9, 2020 via Tesla company blog, a post titled, "Getting Back to Work" stated, "Tesla is the last major carmaker remaining in California, and the largest manufacturing employer in the State with more than 10,000 employees at our Fremont factory and 20,000 statewide. We understand the impacts COVID-19 has caused and have a responsibility to look out for the livelihoods and safety of our personnel, many of whom rely on us and have been out of work for weeks due to the impacts of shelter-in-place orders.
Given the Governor's recent guidance, which is supported by science and credible health data, the state and federal government's classification of vehicle manufacturing as national critical infrastructure, and our robust safety plan, Tesla has started the process of resuming operations. Our employees are excited to get back to work, and we're doing so with their health and safety in mind."
Tweets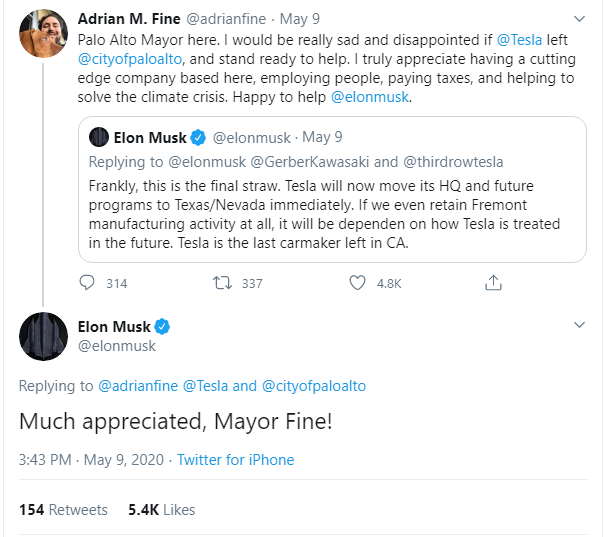 California State Assembly Member Lorena S. Gonzalez from the 80th district (San Diego) tweeted on May 9, 2020, "F*ck Elon Musk." She later tweeted, "California has highly subsidized a company that has always disregarded worker safety & well-being, has engaged in union busting & bullies public servants. I probably could've expressed my frustration in a less aggressive way. Of course, no one would've cared if I tweeted that."
Gonzalez is a community organizer and Latino activist and in 2008 she was CEO and Secretary-Treasurer of the San Diego and Imperial Counties Labor Council, AFL-CIO. California's powerful labor lobby is not afraid of large U.S. companies and pursues tech companies promoting gig economies. California Attorney General Xavier Becerra and the City Attorneys for Los Angeles, San Francisco, and San Diego filed a lawsuit against Uber Technologies and Lyft, alleging that the tech companies willfully misclassify their on-demand drivers as independent contractors.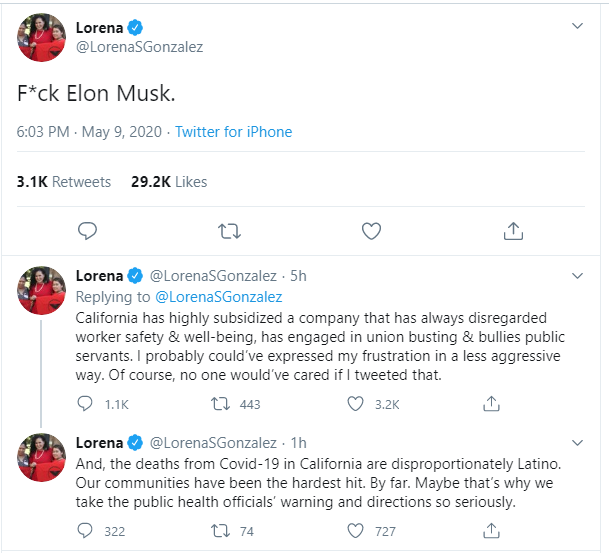 In April, California became the first state to borrow money from the U.S. federal government to pay out rising claims for unemployment benefits.