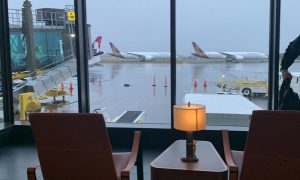 GIC and Carlyle Want out of AMEX GBT Deal
Posted on 05/10/2020
---
The coronavirus pandemic is causing a number of major deals to unfold and lawsuits are piling up. Singapore's GIC Private Limited and the Carlyle Group (through Carlyle Global Partners) are seeking to back out of a US$ 900 million equity recapitalization deal for a 20% stake in American Express Global Business Travel (GBT), a corporate travel booking service that is 50 percent-owned by American Express. American Express GBT used to be entirely owned by American Express, but found outside investors such as the Qatar Investment Authority (QIA) and Certares. Smaller current investors in GBT are Teacher Retirement System of Texas and funds managed by BlackRock.
GIC and Carlyle argue that the coronavirus and the rapid fall of business travel have materially altered the transaction's conditions. GBT's revenue has cratered as a result of the coronavirus pandemic.
Other new investors in the equity recap deal include University of California Office of the Chief Investment Officer of the Regents and Kaiser Permanente.
Keywords: Regents of the University of California.