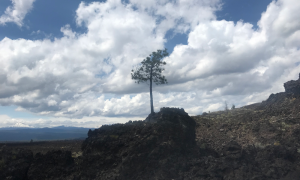 Oregon's State Highway Trust Fund Could Become Insolvent by 2024
Posted on 05/11/2020
---
The Oregon Trail led the way to the fertile lands of the Willamette Valley, which were given to settlers for free 170 years ago. Now, the prospects for Oregon roads don't look so bright. With a major tourism economy that expands south, east, and west from Portland, the value of Oregon's standard of living and investment depends on its highways. Several factors have put those highways in danger, and the consequences are expected to show in the already rattled economy. The Oregon Department of Transportation had earlier warned in its report Rough Roads Ahead: "Oregon's economic vitality is strongly linked to the quality of its transportation system." Portland was ranked the 14th worst U.S. city for traffic congestion in 2019. Roads built for a small city and a thinly-populated state have been clogged for years by unwieldy tourism numbers and newer incoming residents.
Blue Highways
With road funds found to be "insufficient" even in boom times, an unfortunate impact will be that "Highway conditions will deteriorate significantly over time: an increasing number of bridges will close to heavy trucks, forcing lengthy detours that cost businesses time and money. Poor pavement quality will slow traffic and lead to greater wear and tear on vehicles, both autos and trucks. These worsening conditions will increase transportation user costs and hurt Oregon's economy." Declining roads will cost Oregon 150,000 jobs by 2050 according to estimates. The World Economic Forum lists "good roads and bridges" as essential to "real estate activity and economic development." Real estate throughout the country is already looking shaky, with Forbes penning an essay called "Why the Commercial Real Estate Bubble is about to Burst" and an anecdotal report coming into SWFI from a northwest real estate agent trying to offload his own primary residence before "the economy crashes." Portland is well-known among locals for its rapidly inflating home values. The median-priced home now sells for US$ 480,000. Even Portland, though, is seeing price reductions. The Oregonian highlighted that before coronavirus hit, "Some high-priced residential properties were lingering on the market. Asking prices were dropped and negotiations took place to close the deal."
Funding Problems
The Oregonian is also reporting that the state highway fund "will become insolvent by 2024." The State Highway Trust Fund has US$ 3.4 billion in assets, which is not enough to meet demand. "Rising personnel expenses" are blamed for the crisis, which comes despite a hike in the gas tax to US$ 0.40 per gallon within the next four years. Annual debt payments alone are US$ 200 million and growing fast due to projects around Portland. Some Oregon roads are paid for with federal money. This could be a worse problem: "The federal gas tax and federal highway trust fund face more extensive woes" writes the Oregonian. Those most at risk would be parties who profit from a strong economy in Oregon and rising real estate prices.
Pensioners Hit Again
Local group Pamplin Media reported in April 2020 that Oregon's US$ 79 billion Public Employees Retirement System (OregonPERS) is looking at a loss of 7.8% for the first quarter of 2020. OregonPERS has up to 15.5% of its portfolio specifically allocated to real estate. John Skjervem, former CIO of the Oregon state treasury, retired on March 31, 2020. Before doing so, he added protections to the fund in the case of a market drop, which is what is now occurring. A total of 150,000 Oregon retirees under OregonPERS are unlikely to be comforted though, since Oregon's pension system pays out astronomical sums of up to US$ 76,111 per month to individual retirees. Funds could be drained reasonably quickly at such liberal rates, especially with 2,000 new retirees a year lining up for payments of US$ 100,000 or more per annum. SWFI reported on the situation facing Oregon retirees on February 24, 2020. Skjervem says OregonPERS lightened up on real estate before the current crisis, unlike other more exposed owners such as property company Kennedy Wilson.
"Value Creation" at a Crossroads
US$ 18 billion real estate investor Kennedy Wilson out of Beverly Hills, California, has a variety of Portland-area ownership interests in its extensive portfolio. A few of Kennedy Wilson's properties are trendy apartment complexes like "Arya at Hedges Creek," "Savier Street Flats" and "Vintage at Vancouver." Kennedy Wilson was flying high at over US$ 23 per share in Q4 2019 before nosediving to US$ 13.67 by May 1, 2020. A nationwide rent strike which was set for May 1, 2020, is clearly not good news for the company and others like it. From the east coast to the west coast, the movement is gaining steam on social media. Tens of thousands are estimated to have taken part in withholding their monthly rent money. The New York Times stated the undeniable truth, that "Landlords are alarmed." Some municipalities are disallowing evictions during the coronavirus stay at home order, which means several months of free housing could be enjoyed by non-payers. Governments are also being urged to keep renters in their homes even after the crisis is over by activist groups. In December 2019, SWFI reported on Kennedy Wilson's US$ 342 acquisition of five new properties. There are now 29,705 units held by Kennedy Wilson. Vanguard's Real Estate Index Fund holds a 4.25% stake in Kennedy Wilson and Norway's Government Pension Fund Global owns 1.79%.
Keywords: Norway Government Pension Fund Global, Oregon Public Employees Retirement System.