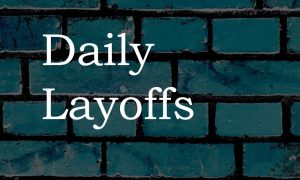 SWFI Daily Layoffs Briefing, May 17, 2020
Posted on 05/17/2020
---
Here are more layoffs tied to the economic impact of the Wuhan coronavirus (COVID-19) pandemic.
United Airlines
United Airlines Holdings Inc informed its employee base that it only has work for about 3,000 of its about 25,000 flight attendants in June 2020. United Airlines' flight schedule is down by around 90%.
Workable
Boston-based Workable is a company that develops talent acquisition software. Workable terminated 25 employees, or roughly 9% of its employee base.
Footlocker
Foot retailer Footlocker, Inc. is terminating 187 employees the corporate office location in Wausau. The layoffs go into effect on July 15, 2020.
Gavilan Resources
Houston-based Gavilan Resources LLC, a company financially-owned by the Blackstone Group, filed for Chapter 11 bankruptcy in U.S. Bankruptcy Court in Houston. Gavilan Resources as formed after the US$ 2.3 billion acquisition of Texas shale oil properties in 2017. Gavilan listed secured debt of more than US$ 550 million in its filing. Gavilan and its investment partner Sanchez Energy Corporation are engaged in a lawsuit with each other over the development and ownership of the properties. Gavilan and Sanchez Energy Corporation purchased 155,000 acres in Texas' Eagle Ford Shale oil field from Anadarko Petroleum. Sanchez Energy Corporation filed for Chapter 11 bankruptcy in 2019 over low oil prices and over US$ 2 billion in debt.
California Gov Wants to Shrink Prison System, Permit Inmates to Leave Early Amid Budget Crisis
California Governor Gavin Newsom is looking at closing more prisons within the state. This is partly due to massive budget cuts. Newsom also wants inmates to leave prison quickly and serve shorter sentences.