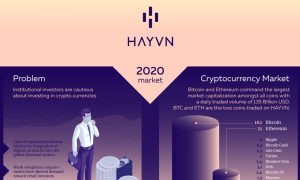 See Why HAYVN is a Breakthrough for the Crypto Market
Posted on 05/18/2020
---
This is sponsored content by HAYVN.
HAYVN is a regulation led firm. This means we may not be for you. Let me explain…
We currently have in-principle approval to operate in the Abu Dhabi Global Market (ADGM) and are also in discussions to expand regulation throughout Asia via the SFC (Hong Kong), Europe via FINMA (Switzerland), and the UK via the FCA. The ADGM is by far the toughest global regulator. They are hard work. They have to be. To be a regulated firm means to have an obligation to continuously report to and have an authority providing regulatory oversight of all your activities.
The ADGM constantly review our IT security, our corporate governance, analyse trading patterns for instances of market abuse. They have policies and procedures that we must adhere to and report on including rigorous Know Your Client, Know Your Transaction and Anti-Money Laundering controls which make us ask hard questions of every single client. They restrict us to dealing only with Professional Clients and Market Counterparties so that novices can't get burnt trading crypto on HAYVN. All HAYVN clients and counterparties have been vetted and approved prior to being allowed to transact.
Meeting in progress – quiet (square)It's hard work being a regulated entity in the crypto space today. We are almost alone, and clients don't quite understand what regulation means for them. When clients onboard we check who they are, where they got their crypto and where they got their Fiat. We ask for evidence. We have lost our fair share of new customers with clients unable to comprehend why they need to answer questions about their sources of wealth. For many in the crypto community, anonymity is very important. HAYVN is not for them. "Where did you get this Bitcoin?" If you can't explain or don't want to answer, then HAYVN is not for you. If you can't show us how you got that USD10Mn sitting in your bank account then HAYVN is not for you.
It would be so much easier to be unregulated. I hear Gibraltar and Malta are sunny this time of year. So why do we do it? Why do we go through this effort and cost and upset some potential clients?
To protect our clients. To grow our industry. To nurture our business. Let me explain how.
This regulatory compliance helps us maintain good relationships with regulators, banks and stakeholders globally. We will send you your Fiat after you trade and it won't get stuck. We can send hundreds of millions of dollars at any one time. Easily. Because we are a regulated firm and banks recognize our regulators and the work that they do.
• We have internal checks and balances protecting our client's cryptocurrency kept in escrow and custody which are monitored by our regulator. Management can't steal the private keys.
• Management can't lose the private keys. We have sophisticated backup systems in place.
• HAYVN has an order book which is not manipulated. The prices you see on HAYVN are the real market prices. No bots or fake volumes. No spreads and hidden fees. Our regulator checks this continually.
• HAYVN doesn't trade on our platform. None of our staff are even allowed to. We have to prove this with evidence to our regulator.
• The crypto you buy and sell on HAYVN isn't tainted. We must run analysis tools on your crypto to check if it is tainted.
• No money launderers are on our platform. We run everyone through worldcheck and other global policing systems. No politically exposed people. Not allowed.
• No terrorist financing. We filter any unknown money out even before they are allowed in.
• We won't run out of money, turn off the lights overnight and disappear because our regulator makes us keep 6 months operating expenses as a regulatory capital reserve with them.
If this level of due diligence scares you rather than comforts you, then maybe HAYVN isn't for you.
The old financial world… the really big money, pension funds, portfolio managers, for them regulation is essential. They come prepared with KYC packs that the financial system has been asking for over many years. Without regulation and regulated firms, they simply cannot invest in an industry. This is part of the bigger picture of why regulation is so important to our industry. When the big crypto market players and counterparties are regulated, then all investors and traders can transact entirely within a regulated environment unlike today's piecemeal approach. This regulated environment will be the gamechanger for cryptocurrencies as the inflows from traditional sources of capital will help our industry evolve further into the mainstream financial world spurring innovation. The crypto space today is a $200bn industry and it doesn't even have a 0.001% allocation of global funds. If we can change that to 0.01%, then we have a trillion-dollar industry and at HAYVN, a billion dollar business. HAYVN is built for them. If you are an individual or a firm seeking safety and security to trade crypto responsibly, then I was wrong and apologise… HAYVN is for you.
Welcome to the future of digital currency. Welcome to HAYVN.