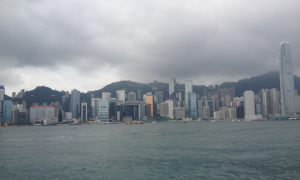 Beijing Pushes for New Hong Kong Security Law
Posted on 05/21/2020
---
The Chinese government is expected to introduce new national security laws that would give the Chinese Communist Party more control over Hong Kong, which would impair freedoms that distinguishes the commercial hub from mainland China. China reclaimed Hong Kong from the U.K. in 1997. In 2019, both peaceful and sometimes violent anti-China unrest occurred in Hong Kong, paralyzing the massive city. Chinese officials grew impatient at Hong Kong's national security apparatus. China has pushed Hong Kong to introduce national security legislation. The crux of all of this lies in the "one country, two systems" system under which China agreed to protect Hong Kong's freedoms, local governance, and its independent legal system. Hong Kong's Basic Law protects those freedoms through a mini-constitution. However, Article 23 of the document states that Hong Kong must "on its own" enact laws against treason, secession, sedition, subversion and the theft of state secrets. In addition, to have outlawed links between Hong Kong and foreign political units. Mainland China has a "nuclear option" in The Basic Law which gives Beijing the power to annex national laws into the document.
The Ministry of Foreign Affairs of the People's Republic of China says that opposition activity in Hong Kong (paraphrased) "poses grave threat to China's national security, sovereignty, unity, territorial integrity." The ministry believes that opposition in Hong Kong has colluded with external forces to carry out acts of secession and subversion.
According to Xinhua, National People's Congress will proposed national security legislation for Hong Kong at annual session of parliament. The Chinese Communist Party wants a new national security law targeting Hong Kong to ban secessionist protests. The proposed law would forbid all purportedly seditious activities aimed at overthrowing the Hong Kong government. China wants to further integrate Hong Kong into mainland China.