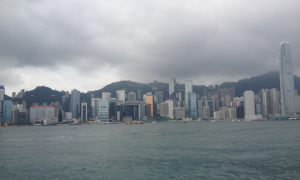 Singapore Could Benefit as Hong Kong Risks Being a Financial Hub for the West
Posted on 05/27/2020
---
Singapore and Hong Kong are both former British colonies with cultural ties to the United Kingdom. The rivalry between the two Anglophile metros has been around since the 1900s. Governor of the Straits Settlements was the title given to the British ruler of Singapore and Governor of Hong Kong for HK. Singapore was the first to go when it was absorbed with Malaysia, then it became an independent country. Hong Kong was controlled by British hands until the political transfer on July 1, 1997 to mainland China. However, as Hong Kong begins to slowly fold into Beijing's full grasp, some banking institutions, asset owners, and asset managers are assessing where they should hitch their wagons. On the one hand, Beijing could provide cover for the organizations that remain to stay in Hong Kong. Some U.S. policymakers are calling for BlackRock to divest from China, a market that the asset manager really wants to tap into for profits and market share.
The Canada Pension Plan Investment Board (CPP Investments) and other Canadian pensions have bet big on China, investing billions in Chinese equities and illiquid assets such as real estate. How will that be impacted if Canada's southern neighbor starts putting sanctions on China? Who will Canada choose? At March 31, 2019, the number #2 and #3 of CPPIB's top foreign equity holdings were Tencent Holdings Limited and Alibaba Group Holding Ltd Depositary Receipt. What if the U.S. banned the listing of some Chinese firms on U.S. stock exchanges that were found to have links with the Chinese Community Party? Geopolitics is taking center stage as the world order begins to shift.
U.S. President Donald Trump's administration has accelerated the eventual trade realignment with China, as the status quo globalist U.S. factions were defeated in the 2016 presidential election. As the United States attempts to decouple some economic activities, such as supply chains, with China, the status of Hong Kong as a financial hub for the Occidental nations remains at risk. Before the coronavirus outbreak, protests swarmed Hong Kong over national security laws, chipping away Hong Kong's unique autonomy. Now, as the viral outbreak recedes, China moved to push for a national security law over Hong Kong, which has spurred a new round of mass civil disobedience in Hong Kong.
U.S. and Western Europe
The coronavirus pandemic, which originated in Wuhan, China, has jolted China's diplomatic relationship with the U.S. and Europe. U.K. Prime Minister Boris Johnson was even infected by COVID-19. Both the U.S. and Europe recorded large amounts of deaths from the virus, while massively adding debt to each other's balance sheet to accommodate QE measures to prevent localized recessions.
In May 2020, as the U.S., in a rare somewhat united front, both in Congress and the White House, aimed to curtail activities by China which include export restrictions, a possible delisting of Chinese companies with links to the Chinese government from U.S. exchanges, and possible sanctions. Later in May, the White House questions if Hong Kong will remain as a financial hub, as protests restarted as China seeks for a national security law for HK. On May 27, 2020, U.S. Secretary of State Mike Pompeo reported to Congress issuing a view that Hong Kong was no longer autonomous from China and that China's proposed national security legislation could jeopardize the administrative region's special status, which has a favorable trading relationship with the United States. In a law passed in late 2019, the U.S. State Department was required to issue a determination on Hong Kong's autonomy. The U.S. State Department's decision to decertify Hong Kong's status does not by itself result in any immediate changes under U.S. law, but it does give the U.S. President a path to issue an executive order and decide to suspend some or all of the favorable treatment Hong Kong currently receives under various U.S. laws. Hong Kong has been afforded special treatment under U.S. law as a result of the Hong Kong Policy Act of 1992, which was changed by the Hong Kong Human Rights and Democracy Act of 2019. On the same day, France Foreign Minister Jean-Yves le Drian, during a French senate hearing, informed members that he was concerned by China's proposed national security legislation that has raised international alarm over freedoms in Hong Kong. China's increasing control over Hong Kong "affects not only our direct interests in Hong Kong but also the maintenance of the rules-based international order where legal and political commitments are to be respected," European Union foreign policy chief Josep Borrell said in a letter to the bloc's 27 foreign ministers.
Hong Kong benefited greatly as a Western economic link into mainland China; however, the metropolis is paying the price as fortunes have reversed. These political events are making Singapore look like the Switzerland of the East.