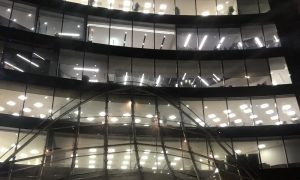 SAMA Had Transferred $40 Billion to PIF, More Firepower for Market Opportunities
Posted on 05/29/2020
---
In March 2020 and April 2020, Saudi Arabian Monetary Authority (SAMA) moved 150 billion Saudi riyals (US$ 40 billion) to the Public Investment Fund (PIF). US$ 25 billion was transferred in April and US$ 15 billion in May. The capital flowed through and a portion took advantage of the recent market turmoil and volatility impacting stock markets. In a statement by Saudi Finance Minister Mohammed Al-Jadaan published by the official Saudi Press Agency the transfers were from SAMA's foreign currency reserves and were made on an "exceptional" basis, and will "strengthen the investment capacity of the fund." This is in reference to the PIF. Al-Jadaan disclosed that the central bank transfer contributed to a historic drop in Saudi Arabia's net foreign assets.
"This procedure was taken after comprehensive study and taking into consideration the sufficient level for foreign-currency reserves," Al-Jadaan said.
In his statement on May 29th, Al-Jadaan said the fund was capitalizing on "a range of investment opportunities that presented themselves in light of the current circumstances global financial markets are passing through."
PIF went on a buying spree to acquire large positions in Total SA, Royal Dutch Shell, BP Plc, The Boeing Co., Citigroup, The Walt Disney Company, and Facebook.
The PIF is chaired by Saudi Crown Prince Mohammed bin Salman.