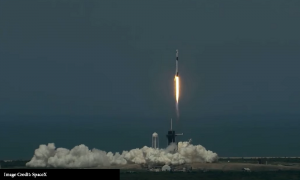 HISTORIC: SpaceX Launches 2 NASA Astronauts into Space for First Time
Posted on 05/30/2020
---
Elon Musk's private space company SpaceX was able to launched NASA astronauts Bob Behnken and Doug Hurley into orbit. This is SpaceX's second spaceflight test of its Crew Dragon and its first test with astronauts aboard. NASA's SpaceX Demo-2's mission is an end-to-end test flight to validate the SpaceX crew transportation system, including launch, in-orbit, docking and landing operations. SpaceX's Falcon 9 rocket and Crew Dragon spacecraft took off from NASA's Kennedy Space Center in Florida at 3:22 p.m. ET. The launch was attended by U.S. President Donald Trump, Vice President Mike Pence, Tesla and SpaceX CEO Elon Musk, and other NASA officials.
According to a NASA press release, "For the first time in history, NASA astronauts have launched from American soil in a commercially built and operated American crew spacecraft on its way to the International Space Station. The SpaceX Crew Dragon spacecraft carrying NASA astronauts Robert Behnken and Douglas Hurley lifted off at 3:22 p.m. EDT Saturday on the company's Falcon 9 rocket from Launch Complex 39A at NASA's Kennedy Space Center in Florida."
Musk founded the SpaceX in 2002. Ontario Teachers Pension Plan is an investor in SpaceX. SpaceX in May raised US$ 346.2 million in a new round of funding.