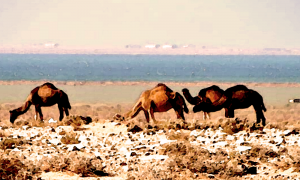 LNA Haftar Ally Seizes Libya National Oil's Largest Oil Field
Posted on 06/10/2020
---
Libya National Oil Corporation announced a force majeure on exports from its largest oil field – Libya Al Fil (Al Feel). This is after a militia group closed down the oil field after the state-owned oil company restarted production after a 6-month blockade. The oil field is located in the northern town of Ras Tanuf. "The armed group, which came from Sebha, stormed the Sharara oil field and pulled their guns on civilian unarmed workers, coercing them to stop production at the field at dawn," Libya National Oil Corporation said in a statement.
The militia who seized the oil field is Mohamed Khalifa, who has ties to Khalifa Haftar's Libyan National Army.
A force majeure event refers to the occurrence of an event which is outside the reasonable control of a party and which prevents that party from performing its obligations under a contract.