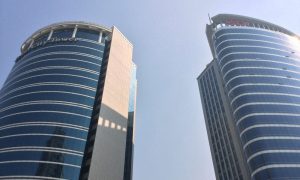 Carlyle Group Asia Fund and KB Financial Agree to a Strategic Partnership
Posted on 06/18/2020
---
Private equity giant Carlyle Group, specifically the Carlyle Asia Partners V fund, and South Korea's KB Financial Group are forming a strategic partnership. The two groups signed a Memorandum of Understanding (MoU). Carlyle Group sees South Korea as a major market for both capital and investments. Korean pension capital are investors in Carlyle vehicles. KB Financial will work with Carlyle Group on the structuring and financing of Carlyle's investments in Korea.
KB Financial owns Kookmin Bank.
Carlyle Asia Partners V fund will invest 240 billion KRW (US$ 199.2 million) into KB Financial through an exchangeable bond utilizing KB Financial's treasury shares. The Carlyle Asia Partners V fund closed in 2018 at US$ 6.55 billion. Carlyle Group claims to have made more than 20 investments in South Korea.