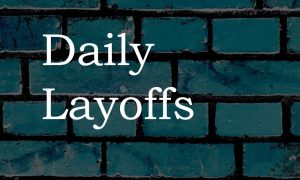 SWFI Daily Layoffs Briefing, June 30, 2020
Posted on 06/30/2020
---
Here are more layoffs tied to the economic impact of the Wuhan coronavirus (COVID-19) pandemic.
Microsoft
Software giant Microsoft Corporation plans to close all 83 retail sites.
Macy's
Macy's is slashing 3,900 corporate jobs, around 3% of its total workforce. This is about 25% of the retailer's corporate workforce.
Apple
Apple Inc will re-close 14 stores in Florida. Apple also re-closed seven retail stores in Texas.
H&M
Retailer Hennes & Mauritz AB (H&M) plans to close 170 stores, 40 more than the original plan.
Chuck E. Cheese
Chuck E. Cheese is a chain of American restaurants and entertainment centers. Chuck E. Cheese parent company, CEC Entertainment, has officially filed for bankruptcy.
24 Hour Fitness
Chanhassen-based fitness chain Life Time Inc. revealed plans to terminate 301 employees. San Ramon, California-based 24 Hour Fitness USA, Inc. filed for bankruptcy and announced plans to close 135 of its 445 locations. 24 Hour Fitness was owned by AEA Investors and Ontario Teachers' Pension Plan. Forstmann Little & Co. sold 24 Hour Fitness Worldwide Inc. in 2014 for US$ 1.85 billion.
Qantas
Qantas will slash 6,000 jobs as a measure to remain economically viable. In March 2020, Qantas furloughed more than 80% of its staff.
NYC
New York Mayor Bill de Blasio disclosed that the city is considering laying off 22,000 people of its 326,000 employee base in a bid to cut US$ 1 billion of expenses. Mayor de Blasio projected a US$ 9 billion loss in tax revenue over the next two years due to the pandemic lockdown.
Keywords: Ontario Teachers Pension Plan.