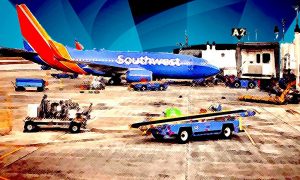 Southwest Airlines Has Financial Features More Attractive than its Larger Peers
Posted on 07/06/2020
---
As the COVID-19 pandemic hacks away at the American economy, one of the most impacted industries is the U.S. airlines industry. Due to multiple governmental travel bans and lack of consumer demand, many airlines have lost most of their quarterly revenues that they would typically generate. Luckily, as August approaches, more consumers are flying again.
Compared to its larger peer group, Southwest Airlines Co. has lower maintenance and upkeep costs and can reap some major benefits from the economic conditions of the country in a post COVID-19 environment. However, labor is generally airlines' biggest cost. Southwest Airlines burns its cash slower than its peers. In addition to higher liquidity, Southwest is also able to keep its aircraft upkeep costs lower than its competitors. This is possible due to their single aircraft operating style. Southwest only owns and operates Boeing 737 planes, because of the lack of diversity in their fleet they are able to save money on maintenance and repairs.
Back on the Horse
Southwest's schedule for the Oakland airport is set to increase from 75 flights per day in July 2020 to more than 90 flights per day in August 2020 (75% capacity compared to August 2019). In addition, Hawaii is set for removing its mandatory 14-day quarantine for all U.S. visitors, as long as travelers post a negative COVID-19 test result before they leave home.
United Airlines revealed that it is adding 25,000 flights to its August 2020 schedule. United Airlines is resuming flights between San Francisco and Shanghai on July 8, 2020. Wuhan, China is where the novel coronavirus originated from via the initial outbreak.