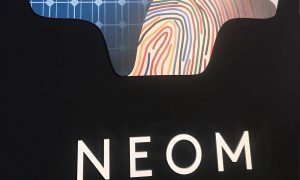 Air Products Partners with NEOM and ACWA Power for Green Hydrogen Ammonia Production Facility
Posted on 07/16/2020
---
NEOM is a futuristic city planned by the Saudi Arabian government under the management of Saudi Crown Prince Mohammed bin Salman that is part of Vision 2030. According to a press release, "Air Products, in conjunction with ACWA Power and NEOM, announced the signing of an agreement for a $5 billion world-scale green hydrogen-based ammonia production facility powered by renewable energy. The project, which will be equally owned by the three partners, will be sited in NEOM, a new model for sustainable living located in the north west corner of the Kingdom of Saudi Arabia, and will produce green ammonia for export to global markets."
Air Products and Chemicals, Inc. will be the exclusive off-taker of the green ammonia and intends to transport it around the world to be dissociated to produce green hydrogen for the transportation market. Air Products is an industrial gases company. ACWA Power is a developer, investor and operator of power generation and desalinated water production plants.
"We are honored and proud to partner with ACWA Power and NEOM and use proven technologies to make the world's dream of 100 percent green energy a reality," said Seifi Ghasemi, Chairman, President and Chief Executive Officer for Air Products in the press release. "Harnessing the unique profile of NEOM's sun and wind to convert water to hydrogen, this project will yield a totally clean source of energy on a massive scale and will save the world over three million tons of CO2 emissions annually and eliminate smog-forming emissions and other pollutants from the equivalent of over 700,000 cars."
The carbon-free hydrogen project in NEOM has a price tag of US$ 5 billion, with NEOM owning 33.3%, Air Products at 33.3%, and ACWA Power at 33.3%. The distribution to end customers for Air Products is 100% owned by the company and will cost US$ 2 billion in capital. Air Products sees opportunity in fueling hydrogen fuel cell buses and trucks.
Keywords: Public Investment Fund, Saudi Arabia.