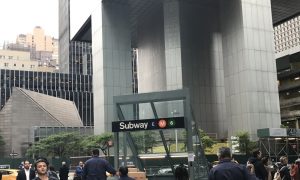 Public Pensions Grapple with Troubling Office and Retail Allocations Amid Viral Overhang
Posted on 07/17/2020
---
Allocations from large funds into private equity have increased in recent years. Private equity funding has correspondingly flowed into real estate. This is in addition to direct sovereign wealth and pension fund purchases of real estate. Where do those investments stand today?
A report from Dow Jones journalists indicates that pension funds "are grappling with how much those real-estate investments are worth in a world transformed by Covid-19." Student housing buildings, malls, and other commercial space is suddenly not looking like such a safe bet, even though less than a year ago colleges were continuing to charge increasing fees and Softbank's WeWork was preparing a US$ 47 IPO on optimism about office rentals. Now colleges are reeling and skepticism on the part of investors caused a ripple effect that has severely impacted the reputation of WeWork and Softbank, and had a significant role in Softbank's losses of US$ 18 billion. It also led to the potential scuttling of Masayoshi Son's Vision Fund II. Suddenly real estate investment, even at its most promising, is looking less lovable.
Valuation
It is difficult to determine the value of various real estate investments because "Deal making has slowed dramatically, giving investors fewer templates to price assets. Widespread uncertainty about how people will work, travel and shop has made it more difficult to calculate how much cash properties will generate," according to the Wall Street Journal (WSJ). To further add to the confusion, states are clamping down on the reopening process. In California, businesses that had been operating are now ordered shut down again. Florida cases are smashing records, and as a result it is likely that there will be further trade and travel restriction there as well. Public pensions and other investors have been trying to shed retail and office properties. Rental income from U.S. offices are at risk of facing further reductions, as some tenants have reduced space or closed up shop. Recently, a number of U.S. pensions redeemed positions in UBS Trumbull Property Fund, according to SWFI data. This is forcing the UBS Trumbull Property Fund to sell assets. In July 2020, Singapore-listed real estate developer and investor OUE sold the 72-storey skyscraper, the U.S. Bank Tower in Los Angeles, for US$ 430 million at a discount to its last book market value of US$ 633 million. The buyer of the U.S. Bank Tower is USBT Property Owner LP. OUE, through its unit Beringia Central LLC, bought the U.S. Bank Tower in 2013 for US$ 367.5 million.
A reduction in demand or business could impact the underlying real estate market and further demolish the hopes that many pension funds have to stave off a financial reckoning, which could also mean insolvency for some. Public pensions had already reported an aggregate 13.2% drop in assets in the first quarter of 2020, although the rebound rally likely recovered some of the losses. Even so, required contributions, taxes, and benefits are all in a state of suspense due to these challenging times. Pensions were generally underfunded before coronavirus became front-page news. Pension funds are as much as US$ 5 trillion short of what they need to meet their "promises" in the U.S.
Japan
The contagion of underfunding, like coronavirus, is worldwide. Japan's Government Pension Investment Fund lost 17.7 trillion yen in the opening months of January, February, and March 2020. With an aging population depending on payments, this is worrying. Japan, also, suffered a real estate bust to usher in the 1990's that the country has never fully recovered from. Industrial output cannot bail out the country, since it had fallen for four straight months as of May 2020. The Ministry of Economy, Trade, and Industry published manufacturing numbers on par with those of 2009. Japan's Center of Economic Research indicates that GDP will not fully recover until 2024, among other discouraging statistics.
Keywords: The We Company, SoftBank Group Corporation, Japan Government Pension Investment, UBS Group AG.
Address: U.S. Bank Tower at 633 West 5th Street, Maguire Gardens at 700 W. Fifth Street and Westlawn Garage at 524 Flower Street, Los Angeles, California.