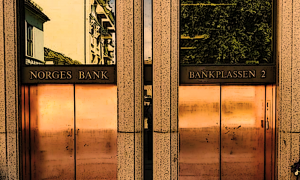 Norway SWF Felt Market Vol for First Half of 2020, Generating -3.4 Percent Half-Year Return
Posted on 08/18/2020
---
Norway Government Pension Fund Global (Norway GPFG), which is managed by Norges Bank Investment Management (NBIM), returned -3.4% for the first half of 2020, or -188,000,000,000 NOK (estimated US$ 21 billion loss). Norway GPFG's equity component generated a -6.8% return, real estate was a -1.6% return and fixed income generated a 5.1% return. The return on the sovereign wealth fund's investments was 0.11 percentage point lower than the return on the benchmark index the fund is measured against.
"There were major fluctuations in the equity market in this period. The year started with optimism, but the outlook of the equity market quickly turned when the Corona virus started to spread globally. However, the sharp stock market decline of the first quarter was limited by a massive monetary and financial policy response", says Deputy CEO of Norges Bank Investment Management Trond Grande in a press release.
Norway GPFG had a value of 10,400 billion NOK as at June 30, 2020, of which 69.6% was invested in equities, 2.8% in unlisted real estate, and 27.6% in fixed income.
Equities
For Norway's GPFG, U.S. stocks, which were the fund's single-largest market with 41.7% percent of its equity investments, returned -2.1%, or -3.2% in local currency. Chinese equities provided the sovereign wealth fund with a 7.7% return as was 5.2% of the sovereign fund's equity investments. European equities posted -11.7% in returns and accounted for 31.6% of the fund's equities. The U.K., which was the fund's largest European market with 6.9% of its equity investments, returned -24.3%, or -19.8% in local currency.
Norway GPFG's largest equity holding for June 30, 2020, was Microsoft Corporation, which moved up to #1. The next three are Apple Inc., Amazon.com, Inc., and Alphabet (owns Google). Two of China's tech giants made the top ten, Tencent Holdings Limited and Alibaba Group Holding Ltd. Facebook remains in the top 10 equity investments for Norway GPFG. Oil and gas stocks performed the worst for Norway's GPFG, which generated a -33.13 return, but made up only 3.4% of its portfolio, while tech generated the highest equity return at 14.2% and was 17.9% of the equity book. Amazon was a big winner for Norway GPFG, being the most positive contribution to the return for the period, followed by technology companies Microsoft Corp and Apple Inc. The investments that made the most negative contributions were in oil company Royal Dutch Shell PLC and financial services companies HSBC Holdings PLC and JPMorgan Chase & Co.
REITs
Listed real estate comprised 31.6% of the overall real estate portfolio at the end of the period and returned -22.1%.