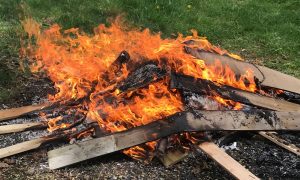 Layoffs and Summer Riots Rock Portland Oregon
Posted on 09/08/2020
---
The last year has not been kind to Omaha. Berkshire Hathaway's annual shareholder meeting was cancelled and businesses of all kinds have been feeling the pain from the shutdown. Now another writedown is coming to Berkshire and its founder Warren Buffet. SWFI has already reported on Berkshire's losses involving DC Solar, and disappointing stock market whiffs including Bank of America, American Express, and Coca-Cola. Now Precision Castparts, one of the biggest companies in the state of Oregon, has indicated there is a severe loss of business for aerospace parts and layoffs of 10,000 are on the way. Spirit Aerosystems out of Kansas faced a similar situation, despite lawmaker's attempts to save jobs at the company.
Local paper The Oregonian picked up the story: "Portland-based Precision Castparts makes heavy metal components for airplane manufacturers, energy producers and other industrial companies. Berkshire Hathaway, Warren Buffett's investment firm, paid US$ 37 billion for Precision Castparts in 2016." Berkshire last estimated the value of Precision Castparts before the impairment charge to be US$ 31 billion. The amount of the charge for Berkshire was US$ 9.8 billion. Buffet had earlier predicted that 2020 would be positive for Precision Castparts. It hadn't produced robust results for the past several years. The abrupt stoppage of the Boeing MAX production was cited as a major headwind. Buffet has admitted to paying too much for acquisitions in the past. Precision Castparts is the largest manufacturer in his portfolio.
Commercial Real Estate in Portland
Portland has been in international news lately for the disruptions occurring on the streets. Police frequently declare them riots due to violence, fires being set, and projectiles being thrown. Leftist Antifa groups have jumped onto the social unrest and caused damage to local establishments. In late August 2020, Michael Reinoehl, an affiliate and supporter of Antifa, shot and murdered a protestor in Portland. Portland Mayor Ted Wheeler even exited his condo after protestors began bothering the building where he lives. Portland's major employers include Intel, Nike, US Bank, Precision Castparts, Adidas North America, and Columbia Sportswear, to name a few of the most recognizable brands. Several tech companies have been interested in relocating to "Silicon Forest," a trend that seemed likely to accelerate until now. Salesforce, ON Semiconductor, Amazon, Autodesk and Xerox are a few of the companies that have opened or expanded there. Vacasa and Tektronix are based there, as are many others. Portland is also home to RVK (formerly R.V. Kuhns), an investment consultant that works with a number of U.S. pension plans.
However, the situation has reached a point that Portland Police Chief Chuck Lovell told KGW "I've never seen a summer like this." He followed up with: "Portlanders need to send a strong message that enough is enough. This is not forwarding the goals that are going to lead to better outcomes for people of color." Pamplin Media thinks the perception of the world is negative: "The city is a burned-out war zone overrun by wild Antifa mobs and Molotov cocktail-throwing anarchists on skateboards." That isn't stopping commercial real estate companies from hoping for a piece of the local property market, which had been going strong for decades.
Crux Commercial Partners out of the Seattle area is expanding into Portland. Crux is confident in its abilities, sharing on its website: "With over US$ 3.5 Billion in loan closures, there is simply nothing that we cannot do!" Also, Los Angeles-based Canyon Partners is joining local companies Diamond Investment Group and ScanlanKemperBard to build "The Overland" in the Portland suburb of Tigard. It will feature 219 new apartments and retail space. Professionals who work in downtown Portland are the intended renters. The Portland Tribune doesn't seem very optimistic, seeing "plenty of office space in Portland and suddenly no great demand."