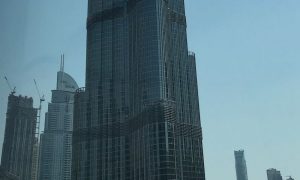 Shareholders Decide to Liquidate Dubai Construction Company Arabtec
Posted on 10/01/2020
---
Due to adverse market conditions, exacerbated by COVID-19, the shareholders of Arabtec Holdings PJSC decided to liquidate the company. The Dubai-listed contracting giant plans to undergo court-supervised liquidation. Arabtec Holdings helped construct the world's tallest building – Burj Khalifa.
The majority of shareholders in Arabtec remain linked or tied to Abu Dhabi.
The largest shareholder of Arabtec Holdings is Aabar Investments PJSC, formerly a unit of International Petroleum Investment Company (IPIC). IPIC is now part of Mubadala Investment Company. Aabar holds around 565,200,000 shares in Arabtec, or 37.7% in equity, according to recent filings.
Calidus LLC is a Defense Technology Development and Manufacturing Company, founded in 2015 and based in Abu Dhabi, United Arab Emirates. Calidus owned 180,169,793 shares in Arabtec, or 12% in equity. The Emirate of Abu Dhabi owns 107,439,577 shares of Arabtec, or 7.16% ownership.