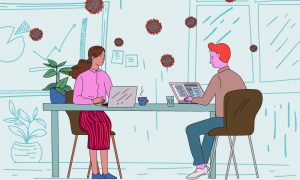 Moderna and Pfizer Claim Their Coronavirus Vaccines are Effective
Posted on 11/16/2020
---
Moderna, Inc. (formerly ModeRNA Therapeutics) claims its vaccine to COVID-19 to be over 94.5% effective, according to preliminary data from the company's still ongoing study. A week earlier, pharma giant Pfizer Inc. (in collaboration with BioNTech) announced its own COVID-19 vaccine appeared similarly effective at around 90% in early results. The Russian Direct Investment Fund (RDIF) is also backing a COVID-19 vaccine called Sputnik V (Gam-COVID-Vac) developed by the Gamaleya Research Institute of Epidemiology and Microbiology.
U.S. President Trump's Operation Warp Speed enabled pharma companies to develop vaccines and therapies for the coronavirus. Operation Warp Speed's goal is to produce and deliver 300 million doses of safe and effective vaccines with the initial doses available by January 2021, as part of a broader strategy to accelerate the development, manufacturing, and distribution of COVID-19 vaccines, therapeutics, and diagnostics (collectively known as countermeasures). OWS is a partnership among components of the Department of Health and Human Services (HHS), including the Centers for Disease Control and Prevention (CDC), the National Institutes of Health (NIH), and the Biomedical Advanced Research and Development Authority (BARDA), and the Department of Defense (DoD).
Moderna and Pfizer plan to apply within weeks to the Food and Drug Administration for emergency authorization to begin vaccinating the public. However, a vaccine that would be widely available to the U.S. public is still months away. The Pfizer and Moderna vaccines far exceeded the FDA's requirement that coronavirus vaccines be at least 50% effective to receive approval. Moderna and Pfizer disclosed the findings in news releases, but not in peer-reviewed scientific journals. Furthermore, these pharma companies did not disclose the detailed data that would allow outside experts to evaluate their claims.