California Governor Issues Stay at Home Curfew Order Due to COVID-19 Cases Increasing
Posted on 11/19/2020
---
With increasing coronavirus cases in California, Governor Gavin Newsom issued a curfew for people to stay-at-home.
Governor Newsome tweeted, "Due to the rise in #COVID19 cases, CA is issuing a limited Stay at Home Order.
Non-essential work and gatherings must stop from 10pm-5am in counties in the purple tier.
This will take effect at 10pm on Saturday and remain for 1 month.
Together–we can flatten the curve again."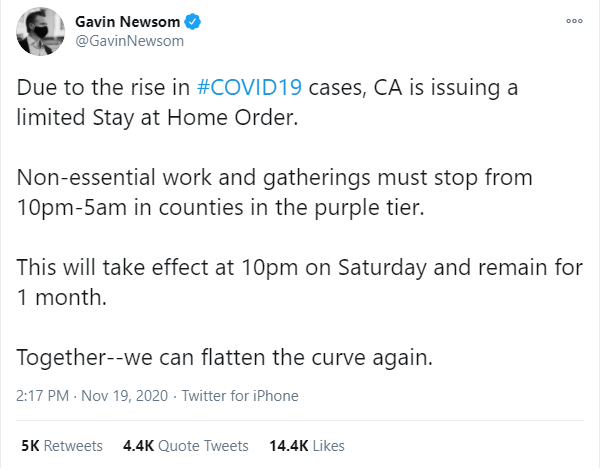 Earlier, Gavin Newsom was caught by news investigators for attending a fancy lunch on November 6, 2020, at the French Laundry, a fine-dining restaurant in Napa Valley, as COVID-19 cases increased in the Western United States. This was in the middle of the state of Calfornia mandating a shut down of service industries and forcing Americans to wear masks and avoid big crowds. California government officials were urging residents to skip Thanksgiving dinners and other private social gatherings.