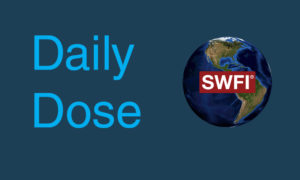 DAILY DOSE: November 21, 2020
Posted on 11/21/2020
---
1. With voting irregularities in swing states, the Republican party continues to challenge the voting tallies from election night. The Michigan Republican Party and GOP seeks a 14-day delay certification of the Michigan tally. Election integrity lawsuits have been filed in states such as Nevada and Pennsylvania. Georgia's Secretary of State has certified that Joe Biden won the Presidential election in the state of Georgia. Social media giants Twitter Inc and Facebook Inc will transfer control of the @POTUS account to the Joe Biden administration on Jan. 20.
2. U.S. President Trump plans to participate in the virtual G-20 summit this weekend, according to administration officials.
3. Pfizer Inc has filed with the FDA for emergency use authorization for its COVID-19 vaccine. President Trump disclosed his administration is issuing two rules to lower drug prices.
4. RECENT – U.S. 10-Year Treasury Yields falls to U.S. session low of 0.826% – this is usually a red flag for equity traders. A falling yield is U.S. dollar bearish.
5. Canada Prime Minister Justin Trudeau announced that Canada is seeing a massive spike in coronavirus cases. He warns that hospitals could get overwhelmed.
6. House Speaker Nancy Pelosi remains optimistic on bipartisan COVID-19 stimulus funding.
7. Some Robinhood users had experienced issues with bank transfers.
8. The number of new coronavirus (COVID-19) infections in France rose by 17,881 on Saturday, lower than the 22,882 reported on Friday.
9. Portugal plans to ban domestic travel.
10. Burkina Faso's opposition candidate claims massive vote fraud ahead of Sunday vote.