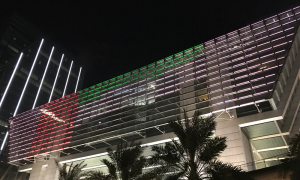 Supreme Petroleum Council Reveals New Oil Discovery of 22 Billion Barrels in Abu Dhabi
Posted on 11/24/2020
---
The Supreme Petroleum Council is the highest governing body of oil, gas and similar industry related activities in the Abu Dhabi. The Council was formed in 1988. Supreme Petroleum Council
discovered a substantial number of recoverable unconventional oil resources located onshore in the Emirate of Abu Dhabi. This new discover is estimated at 22 billion stock tank barrels and an increase in conventional oil reserves of 2 billion stock tank barrels.
According to the press release, "At the meeting, the SPC approved ADNOC's capital expenditure (CAPEX) plan of AED 448 billion ($122 billion) for 2021-2025 to enable smart growth. As part of this plan, ADNOC aims to drive over AED160 billion ($43.6 billion) back into the United Arab Emirates' (UAE) economy between 2021-2025. The inflow to the local economy will be enabled by ADNOC's In-Country Value (ICV) program which is aimed at nurturing new local and international partnerships and business opportunities for the private sector, fostering socio-economic growth and creating job opportunities for Emiratis.
In addition, the SPC gave approval for ADNOC to award exploration blocks in Abu Dhabi's second competitive block bid round which was launched in 2019."
Keywords: Abu Dhabi National Oil Company.