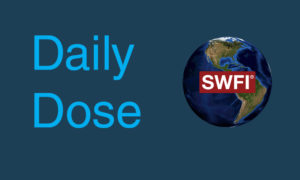 DAILY DOSE: December 6, 2020
Posted on 12/06/2020
---
1. Tabaré Vázquez, the former President of Uruguay, died on December 5, 2020 in Montevideo, at the age of 80. Tabaré Vázquez died from lung cancer. Former oncologist Tabaré Vázquez was president of Uruguay twice in 2005-2010 and 2015-2020 and was diagnosed with cancer in 2019 towards the end of his second term. He was viewed as a moderate left wing politician.
2. Kuwait's Prime Minister Sabah Al Khalid Al Sabah submitted his government's resignation on December 6, 2020. Kuwaitis voted in legislative polls on December 5, 2020.
3. California Governor Gavin Newsom issued a massive stay-at-home order in California in a bid to deal with rising levels of COVID-19 infections. Residents from Southern California to the San Joaquin Valley will be under a stay-at-home order through the Christmas holiday beginning at 11:59 this evening. In March 2020, California government ordered all 39.5 million of its residents to stay at home indefinitely when the state registered 19 deaths associated with the coronavirus at the time. As of December 4, 2020, the state of California has registered nearly 20,000 deaths associated with the coronavirus out of a state of 39.5 million people.
4. KKR bought two U.S. industrial properties worth US$ 171 million located in Texas from Hines Group.
5. Cirque Du Soleil is permanently closing the curtains on it show Zumanity. Cirque Du Soleil once had 6 shows in Las Vegas. Cirque Du Soleil filed for bankruptcy in June 2020 due to COVID-19 forcing them to close in March 2020. Zumanity ran for 17 years in Las Vegas.
6. Part of The Walt Disney Company, Radio Disney and Radio Disney Country, will cease operations in the first quarter of 2021. Radio Disney launched in 1996 as a terrestrial network and had expanded over the years to satellite radio. The radio network helped launch future stars such as Miley Cyrus, Selena Gomez, Demi Lovato, and The Jonas Brothers.
7. Kia Motors is recalling nearly 295,000 vehicles in the U.S. due to the possibility of the engines that can stall or catch fire. Impacted recall models include certain 2012 and 2013 Sorento SUVs, 2012 through 2015 Forte and Forte Koup cars, and 2011 through 2013 Optima Hybrid cars. Also included are 2014 and 2015 Soul SUVs and 2012 Sportage SUVs.