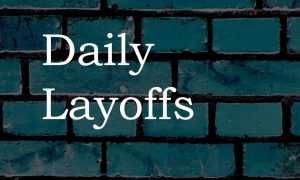 SWFI Daily Layoffs Briefing, December 16, 2020
Posted on 12/16/2020
---
1. State Street Corporation is among just a few financial institutions that pledged no layoffs during the COVID-19 pandemic. At a December 2020 Goldman Sachs U.S. Financial Services conference, State Street CEO Ron O'Hanley said the company's pledge to "not displace anybody" this year "will go away."
2. The San Francisco city government faces a new deficit of US$ 653.2 million over the next two fiscal years. SF Mayor London Breed seeks to talk to various departments within the city and the plan could include layoffs and service cuts. Sales, hotel and business taxes have been lower than expected in 2020, while COVID-19 pandemic-related costs and expected employee raises are pushing up expenses.
3. Butterball is planning to cut 450 of 850 jobs at its turkey processing operations in Carthage this spring. Merriam, Kansas-based Seaboard Corporation, which owns a 50% non-controlling stake in Butterball, has reported mounting losses on its investment in the past three years. Seaboard Corporation is a diverse multinational agribusiness and transportation conglomerate with integrated operations in several industries.
4. Wynn Resorts warned employees that layoffs could be coming as early as January 11, 2021.
5. Sable Permian Resources to lay off all employees after bankruptcy.
6. Cisco Systems plans to lay off 101 employees from its San Jose, California, headquarters.
7. Parsley Energy is terminating 234 Austin employees tied with its US$ 4.5 billion acquisition by Pioneer Natural Resources, a North Texas company.
8. Hawaii Governor David Ige said the state's response to the sudden collapse in tax collections this year will almost certainly involve layoffs of state employees in addition to twice-a-month furloughs of thousands of state workers. Governor Ige reveals his administration has already had to borrow US$ 750 million to help meet payroll costs for 2020.