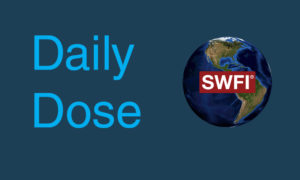 DAILY DOSE: January 12, 2021
Posted on 01/12/2021
---
1. Traditional Western allies to the United States and world leaders have condemned Facebook and Twitter's ban on U.S. President Trump. German Chancellor Angela Merkel's spokesperson Steffen Seibert on January 11, 2021 said Twitter's decision to ban the U.S. President from its platform is "problematic," adding that the freedom of opinion is of "elementary significance." Seibert added, "the chancellor considers it problematic that the accounts of the US president have now been permanently blocked."
Acting Australian Prime Minister Michael McCormack accused Twitter of censorship for suspending President Trump's account permanently, speaking to ABC Radio National.
"I don't like anybody being censored or taking away from the right to post a message on Twitter or Facebook. I don't agree with that, I don't accept that," Mexican President Andres Manuel Lopez Obrador said during a regular news conference on Friday.
French Finance Minister Bruno Le Maire, said that the state should be responsible for regulations, not "the digital oligarchy,." The French Minister added that big tech is "one of the threats" to democracy.
2. The United States government has designated Cuba as a "state sponsor of terrorism." U.S. Secretary of State Mike Pompeo made a statement on January 11, 2021.
3. Chinese electric vehicle maker NIO Inc. announces proposed offering of US$ 1.3 billion in Convertible Senior Notes.
4. California Governor Gavin Newsom said two gorillas at the San Diego Zoo tested positive for COVID.
5. In December 2020, a new Polish bill slaps a total of US$ 2.2 million fines for social media companies that will censor posts on legal speech.
6. Portugal's President Marcelo Rebelo de Sousa tested positive for the coronavirus but has so far shown no symptoms, his office said on January 11, 2021.
7. Post incoming new U.S. President and after analyzing New York state's finances, New York Governor Andrew Cuomo turned 180 degrees and wants businesses opened tweeting, "We simply cannot stay closed until the vaccine hits critical mass. The cost is too high. We will have nothing left to open. We must reopen the economy, but we must do it smartly and safely.
#SOTS2021."