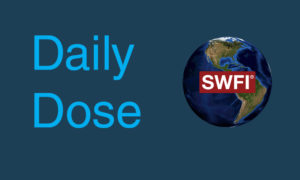 DAILY DOSE: January 13, 2021
Posted on 01/13/2021
---
1. Johnson & Johnson is expecting to release key results from its COVID-19 vaccine trial in as little as 2 weeks.
2. Estonia's president asked the leader of the opposition center-right Reform Party, Kaja Kallas, to form the next government after Prime Minister Juri Ratas resigned over an inquiry into a property development. BNS reports that government prosecutors allege the development was promised permission to build a road on city property, in exchange for a donation of up to 1 million euros to the party ahead of municipal elections.
3. European Central Bank President Lagarde in a recent statement that bitcoin needs regulation.
4. German CDU seeks to pick new leader in key vote for Angela Merkel's succession.
5. Japan Health Ministry: COVID-19 Advisory Panel approved adding 7 Prefectures to State Of Emergency.