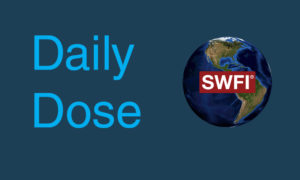 DAILY DOSE: January 20, 2021
Posted on 01/20/2021
---
1. Joe Biden is sworn in as the 46th U.S. president. The smaller-in-scope, socially-distant presidential inauguration was mostly virtual due to COVID-19. Biden, age 78, will be the oldest person to take office as President. Kamala Harris, the former U.S. Senator from California, was sworn in as vice president.
2. Makan Delrahim is the outgoing antitrust chief at the DOJ. Yesterday at a Duke University event, Delrahim endorsed a proposal from House Democrats. This proposal would put new limits on acquisitions by large companies. The draft legislation would presume horizontal acquisitions by a company with more than a 50% market share in a defined market are anticompetitive, no matter the size of the acquired company.
3. Bilfinger SE exits Nord Stream 2 pipeline project over a fear of U.S. sanctions with Russia.
4. Office Depot rejected a US$ 2.1 billion unsolicited takeover bid from rival Staples.
5. U.S. Chamber of Commerce supports Biden's proposed national mask mandate.
6. New York City reschedules 23,000 COVID vaccine appointments due to shortage of supply.