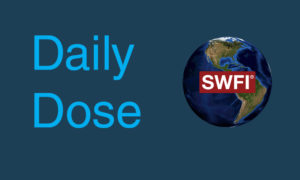 DAILY DOSE: January 24, 2021
Posted on 01/24/2021
---
1. Nord Stream 2 says the Fortuna vessel has started works in Danish waters. This is ahead of the resumption of Nord Stream 2 construction.
2. Top French COVID Advisor Jean-François Delfraissy says that possible new lockdown will depend on the evolution of the proportion of the U.K. variant strain of the virus in France, which is now at 1.4% to 1.5%. He also added that delaying the second COVID shot by a few weeks should not lower its efficiency by much.
3. Morgan Stanley CEO Gorman rakes in US$ 33 million in 2020.
4. Amazon.com, Inc. and Jeff Bezos do not want their workers voting by mail-in-ballots on unionization. An Amazon spokesperson informed CNN the online retailer is seeking a "valid, fair and successful election" and in-person vote would ensure that. Jeff Bezos owns The Washington Post. During the 2020 U.S. presidential election, the newspaper owned by Bezos claimed numerous times that voters would be disenfranchised if the long-period, mail-in voting methods were not permitted.
5. Ray Dalio, founder of Bridgewater Associates, tweeted today, "I believe we are on the brink of a terrible civil war (as I described in The Changing World Order series), where we are at an inflection point between entering a type of hell of fighting or pulling back to work together for peace and prosperity… (3/6)"
6. Days after the inauguration of Joe Biden, China sent warplanes into Taiwan's airspace.
7. China passed a new law that permits China's Coast Guard to fire on foreign vessels.