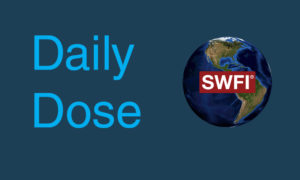 DAILY DOSE: January 30, 2021
Posted on 01/30/2021
---
1. S&P 500 index fell 1.9%, has worst week since October 2020.
2. Delta Air Lines Inc. (Ticker: DAL) launches domestic digital identity test in the United States.
3. Updated Robinhood purchase limits
$AMC – 10 shares (was 115 at open)
$BB – 5 shares (was 65)
$BBBY – 2 shares (was 30)
$EXPR – 5 shares (was 200)
$GME – 1 share (was 5)
$KOSS – 1 share (was 25)
$NOK – 20 shares (was 110)
Robinhood has now imposed 1 and 5 share purchase limits on more than 50 different stocks.
4. Webull CEO says company met with SEC after market close on Thursday.
5. Pfizer Inc CEO says high possibility future variant of COVID will elude vaccines.
6. New York City to permit a reopening of indoor dining at 25% capacity on February 14, 2021.
7. S3 Partners – GameStop (ticker: GME) short interest stands at US$ 11.2 billion.
8. Portugal closes the land border with Spain as COVID cases soar.
9. France to avoid new COVID lockdown, but close borders to non-EU countries. French Prime Minister Jean Castex announced the measure Friday night after an emergency government health security meeting at the presidential palace.
10. COVID Variant: Czech Republic closes its borders for foreigners. Only essential travels will be allowed.
11. Davos founder Klaus Schwab: "As long as not everybody is vaccinated, nobody will be safe."