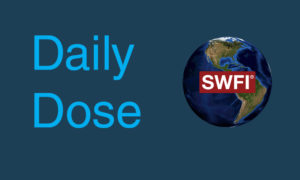 DAILY DOSE: February 7, 2021
Posted on 02/07/2021
---
1. China's State Administration for Market Regulation (SAMR) issued new rules for companies. These rules are aimed to stopping monopolistic behaviors in the platform economy and protect fair competition in the market. Some of the measures include forcing merchants to choose between only a few top internet companies. SAMR also aims to stop companies from price fixing, restricting technologies and using data and algorithms to manipulate the market.
2. George Pratt Shultz is an American economist, politician, and businessman. He served in various positions under three different Republican presidents and is one of only two people to have held four different Cabinet-level posts. He died at the age of 100 at his home in Stanford, California. Shultz is a former U.S. Secretary of State and played a central role in U.S. President Ronald Reagan's administration. George Shultz served as labor secretary, treasury secretary, and director of the Office of Management and Budget under U.S. President Richard Nixon.
3. Emirates Airlines (due to coronavirus) Starting from February 7, 2021 till February 20, 2021 only Kuwaiti citizens will be allowed to fly from Dubai to Kuwait, while travel from the United Arab Emirates to Denmark is set to resume, according to the latest advisories.
4. AstraZeneca's COVID vaccine developed with the University of Oxford appeared to offer only limited protection against mild disease caused by the South African variant of COVID-19, based on early data from a trial. South African COVID variant strain is seen in 90% of new COVID cases in countries.
5. On Sunday the U.K. reported a further 15,845 cases and 373 deaths within 28 days of a positive test, according to official figures.
6. Amazon.com, Inc. orders more than 1,000 natural gas engines for its U.S. truck delivery fleet.
7. Bank of Israel purchased US$ 6.832 billion of foreign currency in January 2021, helping to weaken the shekel from a 24-year peak and taking foreign exchange reserves to a new record high of US$ 179.5 billion.