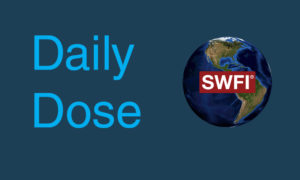 DAILY DOSE: February 11, 2021
Posted on 02/11/2021
---
1. Twitter plans to add labels to personal accounts of Head of State. Twitter confirms it will ban former U.S. President Donald Trump indefinitely.
2. Turkey plans to not turn back from Russian S-400 Systems. Turkey is a member of NATO.
3. U.S. Department of Justice subpoenaed information from Robinhood Markets and others. CFTC examining Reddit posters and users targeting silver and silver futures. Robinhood Markets is opening new offices in Seattle and New York.
4. Microsoft Corporation says Google (Alphabet) and Facebook should pay publishers for news.
5. Italy's 5-Star Movement party votes to support Mario Draghi government.
6. BBC World News is barred from airing in China.
7. U.S. government asks judge to put Wechat court proceedings on hold. Oracle and Walmart back out from buying TikTok, as U.S. government under Biden reverses policy on China tech.
8. Almost one year into U.S. COVID lockdowns, CDC now says wearing two masks is significantly more effective in helping prevent the spread of the coronavirus.
9. High-frequency trading company Virtu Financial would exit New York if transaction tax is implemented.
10. Some New York state lawmakers are planning legislation designed to greatly hinder hedge funds' ability to resist sovereign debt restructurings. The legislation would help ease financial settlements for sovereign borrowers in distress. Some sovereign bonds do not have collective-action clauses, paving a way for holdouts. Hedge funds like Paul Singer's Elliott Management Corporation has engaged in these holdout strategies.
11. U.S. President Joe Biden terminates Southern Border emergency issued by previous admin. Like in the start of 2016, migrant caravans continue to approach from central America toward the U.S.
12. Kimbal Musk, age 48, is the younger brother of Elon Musk and a Tesla, Inc. board member. Kimbal Musk sold $25.6 million of shares in Tesla, according to a filing with the U.S. Securities & Exchange Commission. Kimbal Musk sold 30,000 shares on Feb. 9 at an average price of $852.12, according to the SEC filing. The transaction reduced Kimbal Musk's holding to 599,740 Tesla shares, which amounts to $483 million.