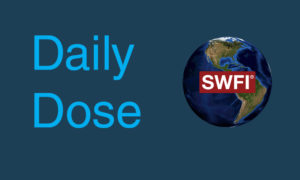 DAILY DOSE: February 21, 2021
Posted on 02/21/2021
---
1. Lucid Motors Inc., which is backed by Saudi Arabia's Public Investment Fund (PIF), is nearing a deal to go public through a merger with a blank-check company created by Michael Klein. The SPAC is Churchill Capital IV (NYSE:CCIV).
2. Mark Carney, former Governor of both the Bank of England and Bank of Canada, has joined the board of directors of Stripe Inc. Stripe is a U.S. digital payments company.
3. Israel's Health Ministry said on February 19, 2021, that risk of illness from COVID-19 dropped 95.8% among people who received both shots of Pfizer's vaccine. The Health Ministry also said the COVID vaccine was 98% effective in preventing fever or breathing problems and 98.9% effective in preventing hospitalizations and death.
4. The rise of coronavirus variants continue to spread across parts of the world. New variants could reduce the effectiveness of both COVID-19 vaccines and treatments. They can also lead to reinfections of people who already recovered from COVID-19.
5. Average time/day U.S. adults are on smartphones
2021: 3 hrs, 19 min
2020: 3 hrs, 13 min
2019: 2 hrs, 45 min
2018: 2 hrs, 25 min
2017: 2 hrs, 11 min
2016: 1 hr, 55 min
2015: 1 hr, 39 min
2014: 1 hr, 26 min
2013: 1 hr, 11 min
2012: 43 min
2011: 22 min
Source: eMarketer, Insider Intelligence
6. On February 16, 2021, New York Attorney General Letitia James filed a lawsuit against Amazon.com, Inc. claiming that the company did not do enough to protect its warehouse workers during the COVID pandemic. The suit argues that Amazon violated New York state law in regard to sanitation practices during the lockdowns and "implemented an inadequate COVID-19 tracing program that failed to consistently identify workers who came into close contact with employees who tested positive for COVID-19." The lawsuit also contents Amazon unlawfully fired or disciplined two employees who spoke out about safety issues.
7. Opioid overdoses in the U.S. accounted for more than 61,000 deaths from August 2019 to July 2020.
8. Nine Democrats in the New York State Assembly, including Ron Kim of Queens-NY, signed a letter accusing New York Governor Andrew Cuomo of obstructing justice and calling for actions against him with the New York nursing home COVID deaths scandal. These actions including impeachment proceedings against the New York Governor. Andrew Cuomo is a Democrat politician.