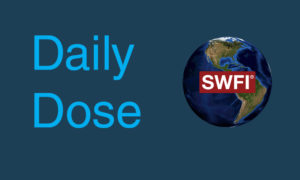 DAILY DOSE: February 22, 2021
Posted on 02/22/2021
---
1. India's Supreme Court halted regulatory approval for the Future Group's US$ 3.4 billion asset sale to Reliance Industries Ltd. The move is a legal win for Amazon.com, Inc. Amazon does not want the deal to go through.
2. Chinese Foreign Minister Wang Yi informed a Beijing forum on Monday that the Biden administration should remove "unreasonable tariffs," and abandon "irrational suppression" of China's technology progress.
3. Paul Singer's Elliott Management Corporation has built an equity ownership position in Des Moines, Iowa-based Principal Financial Group Inc.
4. With South China Sea ambitions, Sansha City was founded by China in July 2012 as a new prefecture-level city. Most of Sansha City is salt water. Yongxing Island Airport (ICAO: ZJYX), also known as Woody Island Airport, is a civilian-military dual-use airport located on Yongxing (Woody) Island, the largest of the disputed Paracel Islands in the South China Sea. Yongxing/Woody Island is occupied and administered by China (PRC) as the seat of Sansha city of Hainan Province. Yongxing Island is also claimed by the Republic of China (Taiwan) and Vietnam. The Battle of the Paracel Islands was a military engagement between the naval forces of China and South Vietnam in the Paracel Islands on January 19, 1974. The battle was an attempt by the South Vietnamese navy to expel the Chinese navy from the vicinity. As a result of the battle, the PRC established de facto control over the Paracels.
Sansha City Fisheries Development Company Limited (三沙市渔业发展有限公司) appears to support the development of Sansha's maritime militia force.
5. After a recommendation from Boeing, Korean Air Lines Co Ltd has grounded six Boeing 777 jets with a certain type of engine that had been in operation.
6. Arne Morris Sorenson (October 13, 1958 – February 15, 2021) was an American hotel executive who served as the president and chief executive officer of Marriott International. He died at his home in Washington, D.C., at age 62, following a nearly two-year battle with pancreatic cancer. Sorenson was diagnosed with stage 2 pancreatic cancer in May 2019.
7. The Philippines Food and Drugs Agency (FDA) approved Sinovac Biotech's COVID-19 vaccine for emergency use. The agency will not give it to healthcare workers at risk of exposure due to its varying levels of efficacy.
8. Bitcoin has been on a tear since the start of 2021 and has risen more than 90% so far this year. Bitcoin last sat at US$ 56,136.09 per coin as of 11:19 PM PST on February 21, 2020.