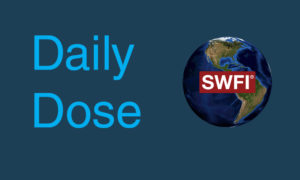 DAILY DOSE: February 26, 2021
Posted on 02/26/2021
---
1. Democrats cannot include a US$ 15 per hour minimum wage in their US$ 1.9 trillion coronavirus relief package, a Senate official ruled Thursday. Democrats wlll have to remove it from bill if they want to pass it with just a simple majority vote. Costco plans to raise starting rate for hourly workers to US$ 16 per hour.
2. Netherlands' SHV Energy N.V. and India's National Investment and Infrastructure Fund (NIIF) are separately looking to buy a stake in Hyderabad-based Fourth Partner Energy (4PEL) for about US$ 150 million.
3. NASDAQ 100 drops 3.6% in the biggest drop since October 2020. Benchmark 10-year Treasury yields jumped to the highest in more than a year at over 1.6%.
4. Social media company Twitter Inc. is considering subscriptions for tweetdeck or advanced analytics for influencers.
5. The United States launched airstrikes in Syria on Thursday. The airstrikes targeted buildings near the border of Iraq that were used by Iranian-backed militia groups.
The Pentagon said the airstrikes were for retaliation for a rocked attack in Iraq earlier, which killed one civilian contractor and wounded a U.S. service member and other coalition troops.
6. Coinbase Global Inc., the largest cryptocurrency exchange, is led by its CEO Brian Armstrong. Coinbase is a digital currency exchange headquartered in San Francisco, California, United States. Coinbase held US$ 316.1 million worth of crypto assets on its balance sheet as of December 31, 2020, according to its direct listing prospectus. Coinbase classifies its crypto holdings as intangible assets, meaning they are not physical items.
7. The U.S. SEC is examining Tesla, Inc. CEO Elon Musk over his Dogecoin tweets.
8. Bank of America made job cuts in investment banking and trading.
9. ARK's Cathie Woords says the bitcoin could replace bonds. Bitcoin has trillions in market cap potential.