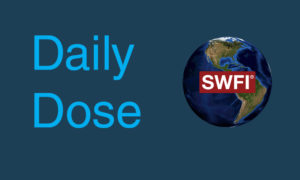 DAILY DOSE: March 9, 2021
Posted on 03/09/2021
---
1. MacKenzie Scott Tuttle (age 50) is the former wife of Jeff Bezos and one of the world's richest women. MacKenzie Scott has married a Seattle science teacher, Dan Jewett. Dan Jewett is a teacher at the private Lakeside School. Bill Gates, Paul Allen, and Craig McCaw are notable former students of the school. Bezos hired Mackenzie Scott when she applied for D.E. Shaw. In 1993, Scott and Bezos were married, and in 1994, they both left D. E. Shaw, moved to Seattle, and started Amazon.
2. South Africa's GDP contracts 7% in 2020, largest fall in 100 years.
3. BP Plc orders 25,000 employees to work from home 2 days per week.
4. Japan Renewable Energy Corporation (JRE), which is owned by Goldman Sachs, GIC Private Limited and others, is up for sale. JRE develops and builds renewable energy assets.
5. The Chinese government is pushing for an international COVID-19 vaccine registration system. The Chinese government plans to issue electronic health certificates and implement mutual recognition of other nation's tests.
6. 90 investors represented by law firm Soffer Avocats filed a lawsuit in French court to support its claim for 1 billion euros in damages from Vivendi. The plaintiffs claim Vivendi made false financial statements during a merger deal two decades ago. Vivendi's leader at the time was Jean-Marie Messier.
7. France Digitale believes Apple's latest operating software, iOS 14, does not comply with EU privacy requirements. France Digitale will file a complaint against Apple Inc. with data privacy watchdog CNIL.
8. Russian authorities are suing five social media platforms for allegedly failing to delete posts urging children to take part in illegal protests over the jailing of Alexei Navalny. Twitter, Google, and Facebook each have three cases against them, with each violation punishable by a fine of up to 4 million roubles. Cases have also been filed against Tiktok and Telegram.