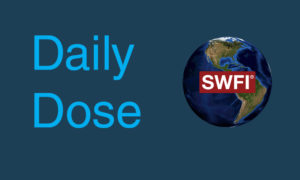 DAILY DOSE: March 14, 2021
Posted on 03/14/2021
---
1. Goldman Sachs Group Inc. believes if oil prices for the commodity average US$ 65 a barrel and all else is equal, borrowing needs for the six Gulf Cooperation Council nations would fall by 96% from the level at US$ 45 per barrel of oil. Essentially the GCC nations would probably need to borrow only US$ 10 billion from about US$ 270 billion.
2. FIAT CURRENCY WOES: Bitcoin is the world's biggest cryptocurrency. Bitcoin was at US$ 60,415.34 as of 7:25 a.m. ET, according to Coinbase. The digital currency is up 963% over the last 12 months, according to Coinbase.
3. TSA: U.S. screened 1.357 million airport passengers on March 12, 2021, highest number since March 15, 2020.
4. The Chinese government posted a Sunday statement on its London embassy website, "The U.K. has no sovereignty, jurisdiction or right of 'supervision' over Hong Kong after the handover, and it has no so-called 'obligations' to Hong Kong citizens."
Earlier, U.K. Foreign Secretary Dominic Raab on Saturday said China is in a "state of ongoing non-compliance" with the treaty that led to Hong Kong's return to Chinese control.
5. U.S. District Judge Lucy Koh wrote in her ruling that Google "did not notify users that Google engages in the alleged data collection while the user is in private browsing mode." Google (parent company Alphabet) has to face a class action lawsuit that claims Google secretly collects data from users even when they're using its private "Incognito" mode. The lawsuit seeks at least US$ 5 billion.
6. Senior Democrats have called for New York Governor Andrew Cuomo to resign. Member of the NY state Assembly and U.S. Senators from NY – Chuck Schumer and Kirsten Gillibrand have called for Cuomo to resign. In a break within the party, U.S. President Joe Biden has not called for Cuomo to resign. Biden told reporters: "I think the investigation is underway and we should see what it brings us."
Andrew Cuomo publicly said he does plan to resign and wants the investigation to continue regarding the sexual harassment allegations. Here is an earlier tweet from the governor regarding the former NY Attorney General.
7. New Orleans Saints quarterback Drew Brees has announced his retirement from the NFL. Brees played 20 seasons. Brees retires as the NFL's all-time leader in passing yards and pass completions.
8. In a national emergency, the Biden administration ordered the Federal Emergency Management Agency (FEMA) to help in handling the large number of unaccompanied migrant children who are in U.S. border patrol custody.
9. U.S. District Judge Rudolph Contreras blocked the Defense Department from restricting American investment in Xiaomi Corporation, the Chinese smartphone giant. The Defense Department placed Xiaomi on a list of companies with alleged links to the Chinese military. Contreras is also a judge on the United States Foreign Intelligence Surveillance Court.
10. India plans to propose a law banning cryptocurrencies, fining anyone trading in the country or even holding such digital assets. The law would criminalize possession of holding the cryptocurrency. If the ban becomes law, India would be the first major economy to make holding cryptocurrency illegal.
China has been the mining and trading of cryptocurrencies, but does not have a penalty on possession.