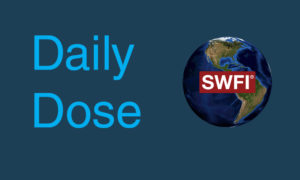 DAILY DOSE: March 16, 2021
Posted on 03/16/2021
---
1. A German court has opened insolvency proceedings against Greensill Bank.
2. U.S. 10-year Treasury inflation-protected securities breakeven inflation rate hits 2.303% – highest level since July 2014.
3. Alaska, Florida, Montana, Nevada, and Puerto Rico joined the Texas antitrust lawsuit against Google (parent: Alphabet).
4. Indian state refiners are seeking to buy oil through spot tenders in a bid to lower reliance on oil from Saudi Arabia.
5. Chinese state banks are increasing usage of currency swaps to stretch U.S. dollar intervention. China's holdings of U.S. Treasuries rose by US$ 22.9 billion in January 2021 to nearly US$ 1.1 trillion, the highest level since October 2019: TIC data.
6. Norway government secures fisheries agreement with the U.K. and the European Union.
7. Russian government may block Twitter in a month if the company does not comply to its requests.
8. The Danish government banned the foreign funding of mosques.
COVID-19 News
a. Scotland plans to restart opening on non-essential retail on April 5, 2021. Scotland plans to lift travel rules within U.K. in late April 2021.
b. State of Ohio plans to expand COVID-19 vaccines to anyone 40-years old starting this Friday.
c. Despite deaths, European Medicines Agency says there is no indication COVID Astrazeneca vaccine has caused blood clot incidents.
d. Moderna starts testing its COVID-19 vaccine in children aged 6 months to 11 years.
e. Italy launches manslaughter investigation as teacher dies hours after receiving the Astrazeneca shot.
f. HSBC Holdings plc to close Asia HQ building in Hong Kong over COVID cases appearing.