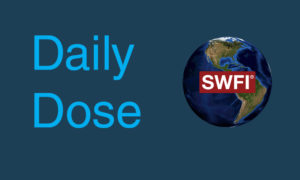 DAILY DOSE: March 19, 2021
Posted on 03/19/2021
---
Geopolitical Run-Down
1. In a humanitarian crisis at the U.S.-Mexico border, there are more than 14,000 migrant children in its custody, administration officials said. After Joe Biden won the White House, migrant caravans from Latin America rushed to the border to get amnesty, some even wearing Biden t-shirts, according to media footage.
2. After U.S. President Joe Biden called Russian President Vladimir Putin a "killer", tensions between the two increased. Putin invited Joe Biden to have a live public discussion. "But with no delays, directly in an open, direct discussion," Putin said. White House press secretary Jen Psaki commented to U.S. media, "I don't have anything to report to you in terms of a future meeting," Psaki said. "The president will, of course, be in Georgia tomorrow and quite busy."
3. On March 18, 2020, in the first face-to-face meeting between US and Chinese officials got off to a heated start in Anchorage, Alaska. The Chinese had accused the U.S. delegation of being "condescending" in its tone. Opening remarks in Anchorage were agreed to be 2 minutes each, according to protocol. The Chinese side opened with 20 minutes of blasting Biden's policies, including BLM, division under Biden, and mentioned the U.S. is no longer a world leader. "China is firmly opposed to U.S. interference in China's internal affairs. We have expressed our staunch opposition to such interference, and we will take firm actions in response of human rights," the diplomat stated. "We hope that the United States will do better on human rights," he said, pointing to the Black Lives Matter movement in America. "China has made steady progress in human rights."
"Let me say here that in front of the Chinese side, the United States does not have the qualification to say that it wants to speak to China from a position of strength," the diplomat concluded.
"Our intent is to be direct about our concerns, direct about our priorities, with the goal of a more clear-eyed relationship between our countries moving forward," Tony Blinken said.
4. Switzerland has postponed plans to relax its COVID-19 restrictions.
5. The California Attractions and Parks Association (CAPA) advises theme park visitors should avoid activities that increase the spread of COVID-19, such as singing, shouting, heavy breathing, and raising one's voice. Visitors will be mandated to wear masks on rides. Japanese theme parks introduced a "no screaming" rule when they re-opened last summer. Disneyland plans to open on April 30, 2021 and only California residents will be allowed to enter.
6. Tokio Marine Holdings Inc. disclosed its facing a large exposure to Greensill Capital. Tokio Marine discovered that the reinsurance contracts intended to limit losses didn't cover its unit that did the most business with Greensill. Tokio's Australia Bond & Credit Co. at one point wrote more than A$ 10 billion of insurance policies for Greensill.