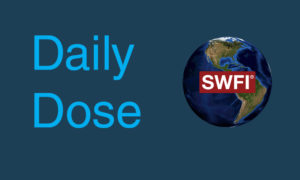 DAILY DOSE: March 29, 2021
Posted on 03/29/2021
---
1. COVID Updates
a. Quebec is suspending the AstraZeneca COVID vaccine for people under the age of 55. Canada's National Advisory Committee on Immunization recommended a pause on the AstraZeneca COVID vaccine for people under the age of 55 for safety reasons.
b. Could there be a FOURTH COVID surge? U.S. President Joe Biden wants states to pause their re-opening efforts and believes there could be a setback in the U.S. COVID vaccination program. The current Centers for Disease Control and Prevention (CDC) Director Rochelle Walensky is concerned about summer and fall surges in the coronavirus. Rochelle Walensky during a White House news briefing said, "We have so much to look forward to, so much promise and potential of where we are and so much reason for hope." She added, "But right now, I'm scared."
c. Former CDC Director and Virologist, Dr. Robert Redfield, told the media that he believes the coronavirus originally escaped from a lab in Wuhan, China. He stressed that he was not implying China intentionally released it, or believes the virus was man-made. Redfield noted that it is not unusual for respiratory pathogens that are being worked on in the laboratory to infect the laboratory worker. He stressed several times in a T.V. interview that this is just his opinion, not a proven fact.
Key Biden administration officials expressed concern about the way Geneva-based World Health Organization (WHO) report examining the origins of the COVID-19 pandemic was crafted, including the possibility that the Chinese government had a hand in writing it. The U.S. has "real concerns about the methodology and the process" of the report, including that the Chinese government "apparently helped to write it," U.S. Secretary of State Antony Blinken said on a news show.
d. Apple Inc. is encouraging employees to get COVID shots by offering paid time off for appointments and paid sick leave for those experiencing side effects.
2. Brazil Defense Minister Fernando Azevedo e Silva resigns. This is the second change in Brazil President Jair Bolsonaro's cabinet within hours.
3. Traffic in the Suez Canal resumes as the stranded container ship is freed.
4. Visa Inc. will allow the use of the cryptocurrency USD Coin to settle transactions on its payment network, the latest sign of growing acceptance of digital currencies by the mainstream financial industry.